Today, AO Smith Corporation is a global water technology company that manufactures residential and commercial water heaters, boilers, and water purification equipment.
AO Smith is one of the oldest and most reliable globally recognized water heating manufacturers. Although the brand is over 140 years old, its presence in India is only a decade old. AO Smith has been large-scale manufacturing water heaters since the 1930s and has pioneered the use of glass layer in water heaters
AO Smith Z9 Water Purifier Review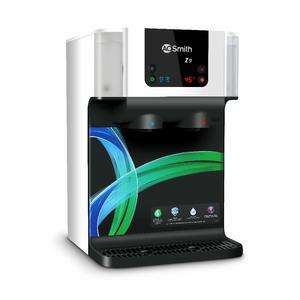 AO Smith Z9 Feature
RO + SCMT (Silver Charged Membrane Technology)
8 Stage Purification
ART (Advance Recovery Technology)
Hot water at a press of button
Min-Tech (Mineraliser Technology)
Advance alert technology
One touch dispensing
Advance alerts for filter & RO membrane change
Intelligent digital display
Glows in the Dark
Expert Review of AO Smith Z9 Water Purifier
AO Smith Z9 RO water purifier has eight-stage purification. Water goes through an 8-stages purification Pre-filter >> Sediment filters >> carbon block plus the ART >>Advance Recovery Technology >> Patented Side Stream RO Membrane >> Min-Tech (Mineraliser Technology) >> ZX Double Protection Dual Filter(SAPC + SCMT). 100 per cent of the water goes by the RO Membrane and is double purified by SCMT.
ART (Advance Recovery Technology) reduces water rejection by 2x compared a typical RO water purifier while ensuring that 100% RO purification is achieved.
The only RO system in India that can provide pure hot water enriched with minerals in two temperatures of 80degC or 45degC can be used to make a perfect cup of tea in a short time and prepare baby food.
RO plus SCMT (Silver Charged Membrane Technology) is an additional purification stage to avoid any secondary microbial contamination after RO purification. The double protection will ensure clean and safe water.
The technology MIN-TECH (Mineraliser Technology) is a process that adds vital minerals back into the water. This assures that the water tastes natural, fresh, and has the correct pH, essential for drinking water.
Indian's First Ro is equipped with glow-effect nighttime that guides you to the water purifier you have at night and helps make your kitchen appear beautiful.
One-touch dispensing allows you to pour water at the push of one button. Advance Alert Technology for RO membranes and other filters. AO Smith Z9 water purifier is one of best hot/cold dispensing high price water purifier.

AO Smith Z9 RO Water Purifier Video Review
Pros
One Touch Dispensing facility
Advance Recovery Technology save 2X water
Advance alert technology
Intelligent Digital Display
Related Article: