The AO Smith Green Series RO water purifiers include superior innovation and advanced defence. The X8 Green Series RO not only guarantees 100 per cent RO pure water but similarly saves 2X more water than a typical RO water purifier with its innovative advanced healing technology. AO Smith Green Series X8 Design 100 per cent RO water purifier in India has a maximum cure. Harmful compounds are released with the discovery of RO + SCMT, and Min-Tech adds important minerals to pure, healthy water. This water purifier is perfect for adjusting your lifestyle and your kitchen area decor.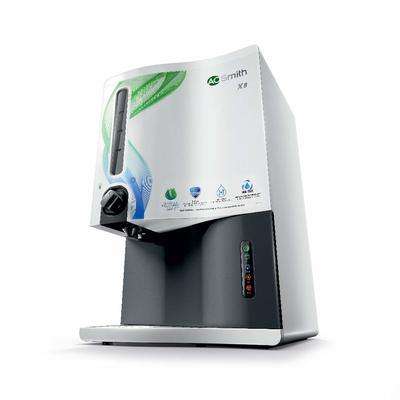 AO Smith X8 Feature:
Technology: RO + SCMT+ ART
Storage Capacity: 9L
Filtration step: Eight-stage water purification
Advance Digital Display
Advance Alert system
1-year warranty
ART ( Advance Recovery Technology)
Expert Review:
• AO Smith X8 Water Purifier includes 8 phase water purification stage. Water travels through 8 step process: Pre-filter > Sediment filter > Carbon block > Carbon block > Art Max (advance recovery innovation) > Patented side stream RO membrane > MIN-TECH (mineral innovation) > ZX Dual safety dual filter * SCMT)
• SCMT is an additional stage that prevents potential secondary microbial contamination after RO purification. Double defence ensures pure and healthy water.
• Mineralizer Technology adds essential minerals into the drinking water. It ensures the water tastes fresh, natural and pH stable to the drinking water.
• Our breakthrough recovery technology restores 2X more water when it flows through the Purifier, ensuring very little water wastage.
• Digital display for an easy and smart screen of information.
• Warning is a convenient system that lets you know if RO membrane or other filter changes are required.
Useful Link:
• Complete Guide for Buying A New Water Purifier.
• Best UF water purifier buying guide.
• Best RO Water Purifier Reviews
Specification:
| | |
| --- | --- |
| Storage Tank Capacity | 9 Litres |
| Purification Capacity | Up to 15 Litres/hour |
| Purifying Technology | RO + SCMT |
| Filter Type | Pre-filter + Sediment filter + Carbon block + ART™ (Advance Recovery Technology™) + Patented Side Stream RO Membrane + MIN-TECH (Mineraliser Technology) + ZX Double Protection Dual Filter* (Silver Activated Post Carbon block + SCMT) |
| Membrane Type | Thin Film Composite RO Membrane |
| Material of construction for plastic parts | Food safe, non-toxic, engineering grade parts plastics |
| Water Recovery | Up to > 55%* |
| Total Dissolved Solids (TDS) | Up to 2000 ppm |
| Total Hardness | Up to 500 ppm |
| Turbidity | Up to 5 NTU |
| Iron | 0.3 ppm (max.) |
| Operating Voltage | AC 150 – 300 V, 50 Hz V |
| Power Consumption | 48 Watts |
| Purification Stages | 8 Stages |
| Feed Water Temperature | 5°C to 45°C |
| Feed Water Pressure | 7 psi to 30 psi |
| Indicators | Power On/Off, Tank Full, Auto Flush, RO Change and Filter Change (both pre and post RO filters) |
| Installation Type | Wall and Table Top Mounting |
| Net weight | 9.5 kgs |

Pros
Advanced Technology
100% safe for drinking from any water
Easy to install and maintain
Water-saving technology (ART) Inbuild
Related Article: