Nowadays, many brands are making water purifiers. But in terms of quality, there are few which can be trusted. One of them is LG. It is a well-known brand in India. It has started manufacturing water filters only a few years back. Let us know, Best LG Water Purifier in India 2022.
If you want to buy a water filter of any other brand, read this article Best water purifier in India, with reviews & buying guide.
Why we select LG Water purifier?
The body of all of LG's filters is made from high-quality ABS plastic. All these filters are strong, luxurious and will beautify the kitchen.
This company is a well-known company of the country. Its appliances are preferred in Indian homes. The company has designed RO filters, UV filters, and UF filters to provide long-lasting service.
The unique feature of the LG water filter is its water tank. Rare any other purifier has a stainless steel tank. The company has given all the necessary indicators on the device.
So always buy a quality water purifier. Then why not pay a higher price. This will reduce the cost of your medical expenses.
LG Water Purifier Price list
LG Water Purifier Review
1. LG Water Purifier WW151NPR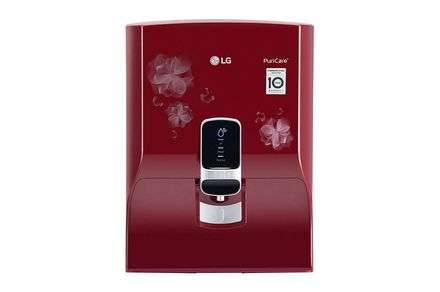 Overview:
Price – ₹21,166
Rating – 4.5/5.0
RO and UV filters
Double-layer steel water tank
Mineral Booster with calcium (Ca) and magnesium (Mg)
20 liters capacity
Digital Sterilizing care
Expert Review
This LG water purifier has RO and UV technology. It is a 20 liter capacity water filter with first RO and second UV filters.
A separate mineral booster has been installed in the water filter to enhance water taste. Calcium and magnesium are present in outlet water to meet essential minerals for our body.
The Dual Protection Stainless Steel Water Tank from LG purifiers helps maintain water quality and prevent the growth of bacteria or algae. It is far more hygiene-friendly than conventional plastic tanks and has a Dual Protection Seal that ensures water safety for drinking.

Pros
Premium quality meterial
Stainless Steel Water Tank
RO +UV protection
---
2. LG WW151NP RO+UV Water Purifier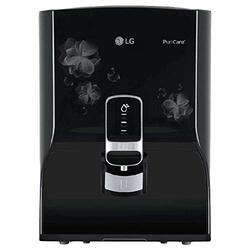 Overview:
Price – ₹21,315
Rating – 4.3/5.0
RO and UV filters
8 liter storage tank
Digital Sterilizing care
Tank UV LED
20 liters capacity
UV Indicator
Mineral Filter which adds on minerals
Expert Review:
This LG water purifier, made with a stainless steel tank with dual protection, maintains water's freshness and purifies it easily. The tank's cover seals tightly against outside contaminants and prevents secondary contamination. The cleaner has a 5-stage water purification system that ensures safe drinking water. This cleaner includes a mineral booster that adds minerals to the water and balances its pH. It also improves the taste of the water. It has a water storage capacity of up to 8 liters.
LG True Water Purifier comes with Mineral Filter, which adds minerals to 100% RO Purifier Water. This makes water healthier and more delicious.
Dual Protection Stainless Steel Water Tanks from LG Water Purifiers are designed to preserve freshness and prevent bacteria or algae growth. It is far more hygiene-friendly than conventional plastic tanks and ensures water safety for drinking.
---
3. LG Water Purifier WW182EP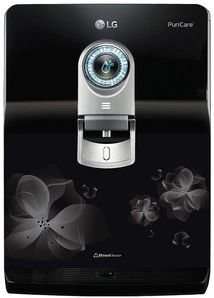 Overview:
5 Stage RO Filtration System
Dual Protection Stainless Steel Tank
Staineless Certification
Mineral Booster
Digital Sterilization
Smart Display
Expert Review:
LG Water Purifier WW182EP is a five-stage RO water purifier that completely removes water impurities, viruses, and bacteria. Its stainless steel tank is more hygienic than a plastic tank, it ensures that water remains safe for drinking with dual protection seal.
This water purifier has a mineral filter that adds and retains healthy minerals making the water healthier and tastier. The smart display is a convenient feature designed to indicate power, time to change the filter and water level in the storage tank.

Pros
Good build quality for the water storage – steel tank and water tight seals
Great post sales support, as there is a service card attached to the device.
The remineraliser is good, as the taste of the water is very good
Cons
The body colour is black which some people are not fevarite.
---
4. LG Water Purifier WW140NP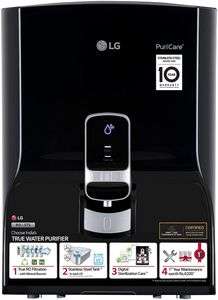 Overview:
Price – ₹17,440
Rating – 4.1/5.0
5 Stage water purification system
8-litres Stainless steel storage tank
Mineral Booster to maintain essential mineral to the water
Digital Sterilization
Smart Display for easy understand
Expert Review:
LG Water Purifiers are a brand that has carved a niche in the water purifier market because of their stainless steel water tanks.
The LG water purifier WW140NP utilizes a 5-stage RO filter system to give you safe and pure drinking water. The five stages of purification include Pre-Filter outside, Sediment Filter pre-Carbon Filter and Pre-Carbon Membrane RO Membrane, Mineral boosters & post-Carbon Filter. The final stage of purification, i.e. 'Mineral booster', adds essential minerals to the purified water to make it more nutritious and tasty.
Its most significant selling point is LG WW140NP water purifier's stainless steel water storage tanks. The stainless steel tank is more hygiene-friendly than plastic tanks. It keeps the water fresher for longer and helps reduce the growth of harmful bacteria. Stainless steel water storage tanks are 94.4% more resistant to E.Coli than plastic tanks.

Pros
Easy to use
Nice build quality
Good looking
8L stainless steel water tank
Cons
Service cost is pretty high
Related Article: