The Livpur Glitz UV + UV Water Purifier features a 7-liter tank, 4-stage purification, UV + UV technology, and a UV failure indicator for safe, clean drinking water. It has an elegant and stylish design, ideal for any home for municipal tap water supply.
Livpure Glitz UV+UF Water Purifier Review
Key Feature:
UV+UF purification technology
7-liter tank capacity
Carbon block filter
Super Sediment filter
UV sterilization
Ultrafiltration
1-year warranty
Free installation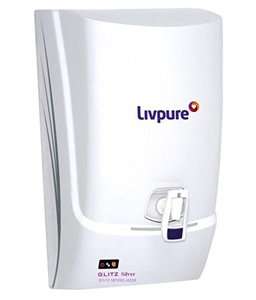 Product Description:
The LivPure Glitz Pure UV+UF Water Purifier is a top-quality water purification for municipal water supply. This purifier has a 7-liter tank capacity and a 4-stage purification process; this purifier ensures a continuous supply of pure drinking water throughout the day.
The purification technology used in this water purifier is UV+UF, which effectively removes bacteria and improves water quality by removing fine suspended impurities. In addition, carbon filter technology absorbs organic compounds that cause bad taste, color and odor, improving the taste of the water.
This purifier also has a pre-installed Poly filter, which helps remove physical particles like dirt, dust and mud from the water. PA filters enhance the performance of the entire purification system, ensuring consistently good water quality.
This water purifier's UV sterilization feature sterilizes water to make it safe from microbiological threats. Ultrafiltration can remove bacteria and viruses without removing beneficial minerals, ensuring pure and safe water.
This water purifier comes with a 1-year warranty provided by the manufacturer from the date of purchase with free installation and no hidden charges.
Pros
Advanced purification technology.
Large tank capacity.
Improves taste of water.
Removes bacteria and viruses.
Free installation.
1-year warranty.
Cons
TDS limit 300 mg/litre
Not suitable for borewell water