About Livpure brands
Before going to a detailed review of Livpure PEP Plus water purifier, first, we need to know about Livpure brand. The Livpure water purifiers are constructed with a sophisticated purification system that guarantees to eliminate all bacteria, dirt and viruses, dust pollutions and contaminants out of the water. With its broad assortment of products, Livpure has become a well-known brand used in every household.
Livpure was founded as part of the SAR group. The company is driven by its enthusiasm and commitment to creating a safer and healthy environment for the future generation, focusing on different treatments for the water supply, management of water and purification of water.
The company started its journey on May 24, 2011, intending to be one of the most prominent and trusted brands in water purification. Through their constant efforts and plans, the company has established a prominent position within the Indian market.
Livpure has established itself as a renowned and trusted name among customers within a short time. It has attracted a lot of loyal customers thanks to its unique advantages and qualities. The brand offers a broad number of benefits that makes it a hit.
Livpure Pep Plus Review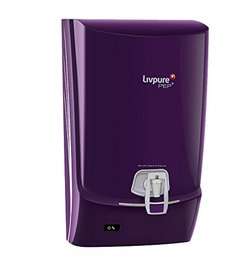 Livpure Pep Plus Key Feature
Purification technology: RO and UV
Storage capacity: 7L
Filtration capacity: 12 liter/hr
Stages of purification: 6-stages
Electricity needed: yes
TDS limit up to 1500 mg/liter
Warranty: 1-year
Livpure Pep Plus Expert Review
Suppose you're looking for a water purifier that will give the ideal balance between top features and a stunning design. In that case, there may be a no better option to consider than Livpure PEP Plus water purifier.
The purifier is guaranteed to meet the requirements of a middle Indian family to provide pure water that is healthy without any sacrifices. It has a large capacity of 7L storage, making it suitable for a middle-sized Indian family. It can also use water from various sources without compromising the taste or quality.
The Livpure PEP Plus has six steps of purification, water is thoroughly cleaned and purified from all kinds of pollutants and contaminants. Additionally, the water is cleansed of bacteria, viruses and dirt, dissolved dust and so on. Thanks to the use of modern RO and UV technology. The only thing somewhat disappointing is that it works with water with a TDS amount of 1500ppm, which is a little less than the purifiers that other purifiers have to offer.
In addition to the features available, it's the elegant and sleek style that will delight you. We liked it the most because it could be incorporated into any contemporary interiors with no hassles. Additionally, the flexible installation also provides convenience to customers.
The customers can take advantage of all the benefits of the warranty of one year to ensure the purifier's consistent and effective performance in every kind of situation. In all, it could be stated that the purifier is the ultimate solution for providing high-quality, pure water.

Livpure Pep Plus Pros & Cons
Pros
Six stages of purification using RO+UV Technology
You can filter from all source of water
Elegant and sleek looks with a light style
Cons
TDS limit up to 1500 mg/liter