A water purifier helps to remove impurities, including chemical waste pollution, and microorganisms. We are a detailed review of the Livpure water purifier & list out the best purifiers. We believe that purchasing a brand new Livpure water purifier will protect the entire family members' health from water-borne diseases.
The price of Livpure water purifier in India is usually affordable. However, we recommend reading this article to find an extensive list of water purifiers from Livpure recently introduced in 2022.
Livpure has established itself as a major brand in the industry of water purifiers within a short time. Livpure provides water purification services for both commercial and residential use.
Livpure offers a full selection of water purifiers, ranging from the basic gravity-based purifiers to premium multi-stage RO water purifiers, including advanced features such as touch controls and Bluetooth.
Livpure water purifier Price List
Here we have selected the Livpure water purifier with their price list, Please note that the price may vary from seasonal offers.
Livpure Water Purifier Review 2022
1. Livpure Water Purifier Zinger (RO+UV+UF+Mineraliser)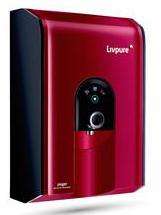 Overview:
HR70 water saving purification
6.5 liter storage capacity
Mineralizer
in tank UV sterilization
Inbuild Auto flush & leakage sensore
Insect proof water storage tank
Expert Review:
Livpure water purifier Zinger has 70 per cent water recovery capacity, saving 20,000 litres of water per year. Six stages of purification give you complete purified and safe drinking water and mineraliser adds vital minerals that aid in protecting the immune system.
It is design and colour complement the style of the kitchen. LED indicators show the filter's life, UV Sterilization status, water leakage, and purification status. 6.5 L of the capacity of storage is ideal for 4 -5 member families.
In-tank UV sterilization and insect-proof high-quality storage tank help keep the purified water in perfect condition and avoid any contamination after the filtration.
---
2. Livpure Glitz Silver RO UF Water Purifier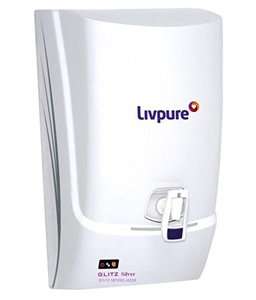 Overview:
Seven Stage Process for Purification
7 Litres Storage Capacity
TDS limits of 2000 ppm
Mineral Cartridge improves the essential minerals
LED Indications – Power ON, Purification Process & Tank Full
Expert Review:
Livpure RO water purifier "Glitz Silver" has a seven-stage purification process with a unique characteristic of mineralised. You get 100% clean and safe is essential drinking water for a healthy lifestyle.
The unique feature is mineralised, which maintains the proper pH level in water by adding the required minerals. The RO purifier comes with a storage capacity of 7 litres and LED indicators that show the power on, tank full and purification in process.
---
3. Livpure Touch 2000 plus RO water purifier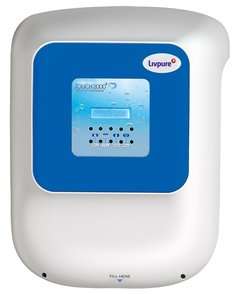 Overview:
7 Stage advanced purification system
Storage Tank Capacity- 8.5 Litres
Touch technology
Purification capacity – 15 L/hr
Filter change indication system
Teast enhancer
Expert Review:
The 7 Purification stages are – Anti-Scalant Cartridge >> Sediment Filter >> Pre Activated Carbon Filter Cum Adsorber >> RO Membrane >> Mineral Cartridge >> UF Cartridge Filter >>UV Disinfection Column
Easy operation and compatibility with the purest water available, Livpure 2000 Plus comes with a stunning touchscreen that offers pure water with the smallest pressure of your fingertips.
To ensure the purity of every drop, Livpure Touch 2000 Plus comes with seven stages of advanced purification technology that helps remove harmful impurities that are dissolved in the water.
It is India's first intelligent touch RO + UV + Taste Enhancer + UF at our doorstep. Livpure water purifier Touch 2000 plus is one of the top water purifiers.
---
4. Livpure Water Purifier ( PEP Star) RO+UV+UF+TDS Technology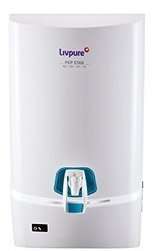 Overview:
RO + UV + UF + Taste enhancer technology
7 Litres storage capacity
Seven stages of water purification
Taste Enhancer
Tank full & UV fail atert system
TDS limit up to 1500 mg/liter
Expert Review:
Livpure water purifier (Pep star) comes with 7 Litres storage capacity & it will be easily mounted on your kitchen wall. Its RO membrane can provide filtration up to 75-80 gallons of water per day, while the Taste Enhancer also improves the quality of the water.
Livpure Ro water purifier "Pep Star" is the excellent RO in this price segment. It has RO + UV + UF + Taste enhancer technology and comes in a sleek and modern design for your kitchen interiors.
The Water Purifier includes indicators like power on and tank full purification process and the UV failure alert.
---
5. Livpure PEP Plus RO+UV Water Purifier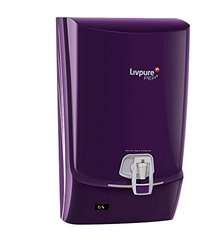 Overview:
Technology – RO+UV+Taste Enhancer
6 stages purification
Tank Full Indicators and UV Fail Alarm
Water storage capacity of 7 litres
Purification Capacity – 12L/hr
TDS limits up to 1500 mg/l
Elegant and sleek design
Expert Review:
Livpure RO water purifier "Pep Plus" provides clean drinking water and also improves the taste of water by eliminating organic pollutants that are volatile from it. The addition of minerals at the last stage enhances the flavour of water, making it delicious and pure water.
---
6. Livpure Platino Plus DX Ecocare (RO+Pure UV+UF+Mineraliser+Copper)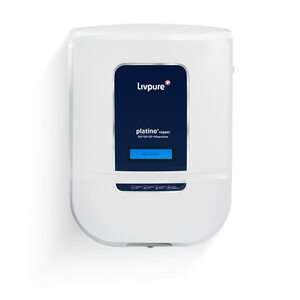 Overview:
Technology – RO+ UV+UF+Mineraliser+Copper
8 Stage Purification
Water-saving purification
Water storage capacity of 8.5 litres
Purification Capacity – 15L/hr
Goodness of copper water
Auto flush & Leakage sensor
Details:
Livpure Platino+ has a one-touch custom dispensing option that allows users to dispense purified water according to their requirements.
The UV sterilization was done every 15 minutes per hour; UV makes stored water safe to drink for longer periods in the Tank. This means that even if you're on a short vacation, you don't have to empty the storage tank. You can still get clean water when you return.
The purification system uses a mineralizer to ensure water has the right amount of minerals like magnesium, potassium and other essential minerals. Magnesium improves exercise performance, supports sleep quality, and maintains healthy blood sugar levels. Also, you get copper to enrich water that boost your immunity system & improves digestion.
---
7. Livpure Bolt DX Ecocare RO+UF+Mineraliser+Copper

Overview:
Technology – RO+UF+Mineraliser+Copper
7 Stage Purification
Input water TDS upto 1500 ppm
Anti-Scalant Technology
Water storage capacity of 7 litres
Purification Capacity – 15L/hr
The goodness of copper water
Expert Review:
Smart TDS technology improves the taste of the purified water and water-saving technology can help to save water up to 20,000 litres every year. The water purifier input water TDS limit up to 1500 ppm.
Anti-Scalant Technology is used to reduce scale formation in RO Membrane. This results in a higher purification efficiency and a longer life RO membrane.
The purification system uses a mineralised to ensure the water has the right amount of minerals like potassium, magnesium and other essential minerals. Purified water containing copper boosts immunity, aids weight reduction and improves digestion. Magnesium improves exercise performance, supports sleep quality, and maintains healthy blood sugar levels.
---
Conclusion:
If you're a city resident and dependent on municipal or overhead tank waters, you should use a water purifier before drinking. Municipal water is treated, but during transportation through the pipeline, it can be a contaminant in leakage from underground pipes. The water from the overhead tank is stagnant and has a chance for microbiological growth.
These all RO water Purifiers are suitable for high TDS water 300 – 2000 mg/l. If your home supplies water TDS less than 300 mg/l, then best to use UF + UV water Purifier.
Livpure water purifier customer care
Livpure has a national presence with more than 10,000 retailers along with 300 distributors in India. Livpure is also exporting its top-of-the-line water purifiers to more than 15 countries around the world.
The customer service provided by Livpure on the ground is very good.
Livpure Customer Care Number 1800 – 419 – 9399
E-mail to customer care support – customercare@livpure.in
Related Article: