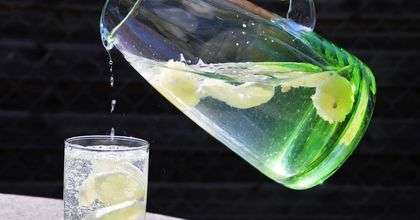 The alkaline water purifier demand was increasing day by day. Peoples are more concerned about their health but their food habits did not change. We are most of the time eating meat, dairy, processed foods, and sugar is rich in acidic substances. This type of food is highly acidic & disbalances our body's acid-alkaline balance. The results outcomes of chronic diseases like weaker bones, Hyper Acidity, Arthritis, Gastritis, etc.
We drink 2-4 liter of water on an average daily basis & if we drink high pH water, it will balance acid-alkaline in our body. The water purifier industry solves this problem & alkaline cartage in the Alkaline water purifier increase the water pH.
The acceptable limit of drinking water pH is 6.5 – 8.5 as per the Ministry of Drinking water Government of India, If you are drinking the 6.5 to 7.0 pH water & eating food also high acidic then several chronic diseases may be the outcome. So, drinking water pH 7.5 to 8.5 is the best option as of now based on our present food habits.
Drinking water parameter limit data source: BIS Standard IS-10500- 2012,
If you don't have any water purifiers & have a plan to buy a water purifier, the best choice is to go with an alkaline water purifier. Another is if you have a RO water purifier & need to make it an alkaline water purifier, simple buy alkaline cartage & installed it in your existing water purifier.
Best Alkaline Water Purifier in India Review
1. KENT alkaline water purifier – Supreme Extra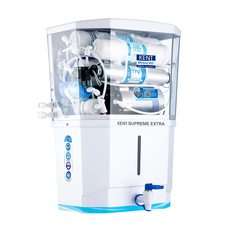 Feature:
Multiple purification stages, patented Mineral RO technology
Alarms for UV failure and filter change
Zero Water Wastage Technology
Alkaline water that has a higher pH and offers significant health benefits
High storage capacity provides water supply even when electricity is out
Water purified with high purification capacity is more effective and lasts for a shorter time.
1 year warranty + 3 years free service

Expert Review:
kent alkaline water purifier is a high-tech water purifier that uses Kent's RO TM technology. This provides double water purification. The purifier removes impurities and contaminants from water and retains minerals. It also increases the water's pH and makes it more flavorful.
The purifier features advanced technology such as zero water waste technology and UV LED Light inside the storage tank. It also has filter change and fail alarms. It can store 8 litres of water and has a great storage capacity. You can rest assured that you won't run out of water.
This water purifier is advanced with multiple purification technologies, in-tank UV disinfection, and TDS control. It purifies water by eliminating mud, dust, viruses and harmful heavy metals such as lead and arsenic.
Kent Supreme Extra alkaline water purifier is a good choice. There are many benefits to Kent Supreme Extra. This review will help you understand all the benefits of having this water purifier in your home.
Pros
Alkaline 8.0+ water pH
Advance alert system for filter change
Zero Water Wastage Technology
1 Year Warranty + 3 Years free service
Mineral RO technology
---
2. Aquaguard alkaline water purifier – Aura (RO+AUTO UV+Alkaline+Mineral Guard+Active Carbon)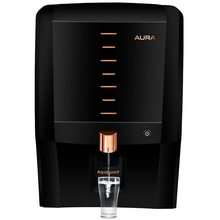 Key Feature:
Technology: RO+UV+MTDS with Active Copper & Mineral Guard
Purification Stages – 8 stage
Storage Capacity: 7L
UV e-boiling technology
Unique UV E-Boiling
1 year warranty
RO membrane life 6000 liter
TDS Limits maximum 2000 mg/l

Expert Review:
Aquaguard alkaline water purifier Aura's superior design and advanced technology make it stand out. It provides optimum purification using its RO technology. The UV LED also maintains water purity after purification, and Alkaline Cartridges immediately increase the pH level of water and create alkaline water.
Aquaguard is the only brand certified to remove new age contaminants such as lead, mercury and arsenic from drinking water while also eliminating viruses & bacteria.
The energy-saving mode turns off the water purifier's power when the water tank is empty. This will save you money on your monthly energy bills. You can use any water you like, such as tap water, borewell water and tanker water.
Pros
Advance technology
Complete 8 stages purification
Mineral Guard technology to retain minerals
Wide service range
Cons
Filter change alert does not available
---
3. Blue star alkaline water purifier Eleanor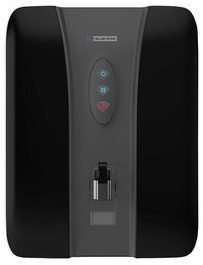 Key Feature:
Triple Layered RO+UV+UF Protection
7-stage Purification
Aqua Taste Booster (ATB)
Alkaline Antioxidant Water
6 Litres Large Tank
Filter Change Alert
Aqua Mineral Infuser

Expert Review:
Blue star alkaline water purifier Eleanor is ideal for families of medium size Indians because it has a storage capacity of 8L. This water purifier is the most attractive because it uses multiple purification technologies to obtain pure water. It removes any impurities or contaminations by using RO, UV and UF technologies.
The alkaline purification method it uses improves water quality and immunity. This purifier will eliminate all microbes and physical contaminants from water and make water taste better and more quality. The purifier can also maintain a healthy balance of all essential minerals. Aqua taste booster ensures that water tastes excellent.
It has a minimalistic design that is both practical and attractive. You can set a filter change alert to notify you when a replacement is needed.
Pros
7 stages of purification
Water infused with alkaline to increase user's immunity
It retains and adds minerals to improve taste and quality.
Minimalistic yet attractive design
Easy maintenance and flexible installation
Cons
It does not have an output pipe to collect the discarded water.
---
4. Havells alkaline water purifier MAX (RO +UV)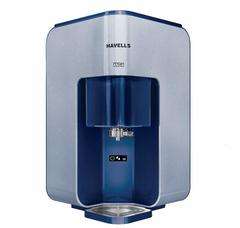 Key Feature:
Technology: RO + UV +UF + IBT+ Alkaline
Filtration step: 8-stage water purification
Storage Capacity: 10L
Purification Production Rate: 12L/hr Max
Aqua Taste Booster
Alkaline Antioxidant Water
Aqua Mineral Infuser
Filter Change Alert
Revitalizer Cartage
iProtect Purification Monitoring
Zero Splash Faucet
Smart Alerts

Expert Review:
Havells alkaline water purifier MAX using a seven-stage advanced purification process. These stages include carbon and sediment filters which remove suspended impurities, dust and chlorine from the water.
An alkaline taste enhancer is included with the water purifier. This transforms regular water into alkaline water. It provides essential alkaline minerals and maintains the water's pH.
The Havells Max7L Alkaline RO+UV water purifier is a must-have. This water filter is extremely safe. There are also alerts for self-diagnosis, low water pressure, a tank full, pump failure, SV, UV and pump failure. Click the button to find out more about alkaline water purifier prices.
The Havells Max has a soft-touch faucet. It ensures that water flows smoothly and there is no splash. This prevents water from leaking, which can cause a mess in your kitchen.
Pros
Zero splash faucet
Advanced multiple alert system
Removable tank
8 stages purification
3 way mounting