Are you want to change the RO membrane of your water purifier? You are not satisfied with the rate your RO technician has estimated. It is very easy to buy Best RO membranes online within a budget price.
We all understand reverse osmosis (RO) & it is the heart of the water purification system. RO membrane can remove 95-99% water impurities from raw water & make it safe & sweet drinking water.
Home Water Purification Best RO Membrane Details:
The Home water purifier used 75 GPD or 80 GPD category RO membrane. GPD full meaning gallon per day, that's means 75 GPD membrane can be purified 75 gallon water per day. One gallon water is equivalent to 3.69 liters water.
Estimated purification capacity of Best RO membranes based on their GPD quality:
For example
75 GPD membrane purifies 75 gallons of water per day or 264 liters of water daily.
80 GPD membrane cleans 60 gallons of water or 303 liters of water per day.
Before buying a new RO membrane online you must check the requirements of your existing RO membrane and order accordingly. You must check the TDS of raw input water to select the best RO membrane
10 Best Quality RO Membrane List:
3 Point Every Water Purifier Owner Needs to Know:
1. RO membrane change time:
You can change the RO membrane as per water purification manufacture company recommended.
You change RO membrane in every three years even change pre-filter frequently & your raw water TDS level acceptable.
2. RO Membrane life Extended Technique:
Change pre-filters within a routine period. Pre-filter can protect your RO membrane through unwanted particle deposit.
Water Purifier used only drinking purpose. Do not waste RO purified water.
Confirm the input water based on TDS membrane specification. Check the input water TDS.
3. Major Factors Depends on RO Membrane Life:
RO Pre-filter change timely.
Daily water purification quantity
inlet water TDS limit.
Contamination present in input raw water.
Four Easy Step to change RO Membrane: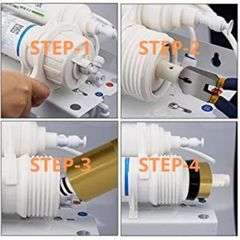 Step 1: Remove the tube from the fitting and twist off the housing cap with wrench.
Step 2: Pull out the old membrane (you can use pliers if necessary).
Step 3: Push the membrane into the housing.
Step 4: Put the housing cap back and tighten it.
Guideline:
Rotate components to make installation and removal easier. Ensure the complete interface of the component O-ring at the point of connection to achieve optimal performance.
If you have chlorinated water, we recommend that you use a carbon and sediment pre-filter before filtering the RO membrane. The remaining chlorine in the municipal water will destroy the thin film composite membrane.
Drain the RO filtered water produced within the first 30-60 minutes after system start-up.
Best Quality RO Membrane Review:
1. Vontron RO Membrane-75 GPD:
These quality reverse osmosis membranes are commonly used in household water purifiers, aquariums and other small sized commercial water purifiers. This is one of best RO membrane. It efficiently releases heavy metal particles (primarily calcium and magnesium), bacteria and any other carbonate from source water.

Product Details:
• Capacity: 6000 liters
• Brand: Vontron
• Package Contains: 1 Catridge Box
• Catridge Box
• 75 Gpd
• Used in Ro Water Purifiers
Key Feature:
The reverse osmosis membrane releases heavy metal particles (primarily calcium and magnesium, lead, chromium and nitrate), bacteria and any other carbonate from source water.
Rejects large spectrum of impurities up to 0.0001 micron.
Fifty gallons per day – production rate 95-97% rejection rate in perfect conditions.
Thin film composite TFC membrane reverse osmosis can produce good, pure water for your family.
It features a spiral hit style for exceptional membrane flux with high active membrane area.
---
2. Konvio Neer RO Membrane for All Type of RO Water Purifier (TDS limit 1500 ppm):
Protect your home & family health by filtering your water. Konvio Water Reverse Osmosis Membrane removes significant impurities from your water and provides pure water for all home use. Start drinking healthy drinks and stop eating contaminated through reverse osmosis water purification in your own home. Water filter life may be vary depending on feed water quality, temperature and incoming pressure. Remove heavy metals, total dissolved solids (TDS), germs, arsenic, chlorine, cadmium, pyrogen, giardia, viruses, cyanide and many more.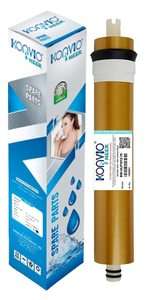 Product Details:
• Density grade membrane film guarantees that you will get the most filtration and surface area coverage.
• Unique water conservation technology and spiral-wound membrane innovation at the best price. Development technology in purification promotes performance and cost savings.
• Used for: Often used to improve water for drinking and cooking
• Universal type, compatible with all storage type ro systems
# Konvio Neer RO Membrane for All Type of RO Water Purifier (TDS limit 3000 ppm) Check at Amazon:
---
3. NEXQUA 80 GPD High 3000 TDS Membrane for RO Water Purifier Filter: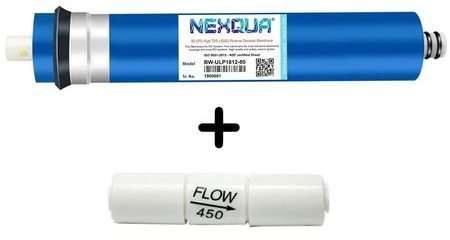 • Reverse osmosis membrane material is used for commercial and domestic drinking water. This is the main filtration stage of the RO filtration system.
• Advanced membrane technology and automatic spiral-wound fabrication RO material ensures consistent performance for all customers.
• The NEXQUA Dew RO membrane has high flow current flow and stable rejection rate. It can efficiently remove heavy metals (primarily fluoride, calcium, magnesium, lead, colloid, chromium and nitrate), organic, rubber mass, harmful minerals and other soluble salts from water.
• Compact high density grade membrane layer makes this maximum pollution reduction rated reverse osmosis membrane
• Microorganisms, bacteria and viruses like micro 0.0001um (1 / 10,000th) of contamination
• Fast 50 gallons filtration per day
• Inner layer made from polyamide thin-film composite.
---
4. AQUA LIBRA 80 GPD RO Membrane Work Up to 2500 TDS:
This is the best RO membrane 80 GPD is suitable for almost all household raw water purifiers. Water output 15 liters per hour maximum capacity & membrane life 10000 liters water (approximately). It can work up to 80 gallons of raw water production up to 80 gallons per day 90% stable salt rejection. RO Membranes provide reliability, high performance, and consistent results for RO applications. This row of membrane technology is licensed by BARC (BHABHA ATOMIC RESEARCH CENTRE ) of India.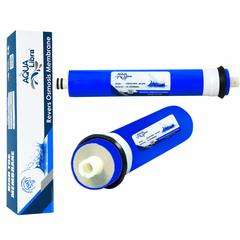 Product Details:
• Membrane material: polyamide (PA); Material Configuration: Spiral wound
• Maximum operating pressure: 125 psi; Operating pH range: 3.0 – 10.0; Test pressure: 60 PSI
• Permeates flow rate GPD (m3 / day): 35; Salt rejection %: 96.00
---
5. Aqua Dove 100 GPD RO Membrane for All Water Purifier:
AQUA DOVE is the best RO membrane suitable for residential, personal home or office use. This RO membrane material is one of the best in the industry. This tap water TFC (thin film composite) reverse osmosis membrane is available at a flow rate of 100 gallons per day for ideal residential housing use. With thousands of membranes worldwide, we have gained a reputation for consistent, high quality delivery that makes AQUA DOVE membranes a natural choice for use in in-home or office RO systems.
Product Details:
• Filter Size: 1.8″x12″ (Fits Standard 2″ ID Membrane Housings)
• Material: Plastic
• Filter rating: 0.0001 micron
• Capacity:100 Gallon Per Day
• Stable rejection rate: 97%
• Testing Pressure: 60 psi Appliance Water: municipal water supply
• Lifetime: 2~3 years(depending on your water quality)
---
Others Best Quality RO Membrane:
| | | | |
| --- | --- | --- | --- |
| SL No | Product Name | Price | Image |
| 1. | Aquaguard RO membrane, pre filter with service kit | View on Amazon | |
| 2. | TFC Membrane 80GPD for all type Water Purifier | View on Amazon | |
| 3. | Hi-Tech 100 GPD RO Membrane for All Types of Water Purifiers | View on Amazon | |
| 4. | Aquadyne TFC RO Membrane | View on Amazon | |
| 5. | Generic Duken 80 GPD RO Membrane for All Types of Water Purifiers | View on Amazon | |
Best RO Membrane Price:
If your water purifier running for more than 2 years , you need to think about changing your RO membrane immediately. The best quality RO membrane life is maximum 6000 liters water production. So you clearly understand Best quality RO membrane life is not a time period basis, it is on a quantity of water production basis.
We are unable to count the water production record in your home or office water purifier. Best practices to check TDS in purifying water another change RO membrane in every 2 years & RO pre filter in every 3 months.
Best Quality RO membrane price are Rs. 400 to Rs. 800 depend on membrane quality & water production capacity.
You May like to read this article….