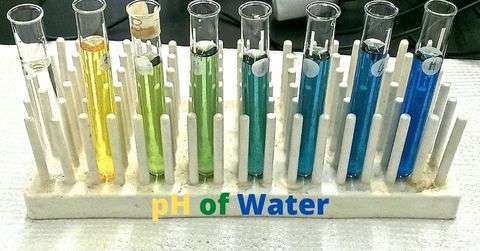 The pH indicates the degree of acidity or alkalinity of a solution. Specifically, pH is the logarithm of the reciprocal of the concentration of H+ in a solution. In fact, the normal acidity or alkalinity depends upon excess H+ or OH- ions over the other and measured in normality or gram equivalents of acid or alkalinity. If free H+ are more than OH- ions, the water shall be acidic or alkaline the other way round.
What is The pH of Water?
pH is generally measured on a log scale and equals negative log10 of hydrogen ion concentration.
pH= -Log10[H+]
The pH scale ranges from 0-14, with a natural midpoint of 7.0. Below 7.0 being acid and above 7.0 is alkaline.
The pH of water in industrial water systems is crucial in controlling deposits—some scale-forming materials. In the view of drinking water, low pH water (lass than 7.0) consume for al long time side effect health issue & drink very high pH above 9.0 continuously also a bed for your health.
If you are serious about your health & family health, the drinking water pH plays a major role.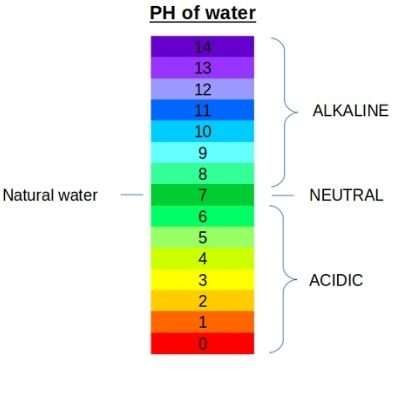 What is meant by insecure pH?
The pH of water changes for a different reason to dissolves contamination natural way. It depends on the global weather pattern, human activity and biological processes.
The safe pH of water for drinking is 7.0 to 8.5. However, very high pH means alkaline water can have an unpleasant odour or taste.
Acidic water with a pH of less than 7.0 is more likely to be contaminated by contaminants, making it unsafe to drink.
Alkaline water:
Alkaline water means high pH of water is popular drinking water as of now. Drinking a few amounts of alkaline water pH between 7.5 and 8.5 can improve your health. Still, there is no scientific evidence that alkaline water is healthier than other types of drinking water.
Some studies suggest high pH water may benefit human health;
Acid neutralizes.
High blood pressure, diabetes, and high cholesterol.
Alkaline water is electrolyte water helpful for dehydration.
pH analysis method at home:
If you drink borewell water, the water quality does not your hand. Underground water pH & other contamination varies depending on the location. The best idea is to test your drinking water at home. So many pH analysis procedures are available at markets.
Top cities peoples are dependent on Municipal water.  The municipal department treated water completely & maintain the drinkable parameter quality. The problem of municipal water is,
It is stored water.
Long root carries through the pipeline.
Pipe leakage issue & mixed contamination.
If you drink municipal water, The best way is to check pH & TDS in your water & used a water purifier based on water quality found.
pH Analysis method:
Three different way we can analyse water pH without any technical knowledge at home. you need to follow the under below instruction step by step only. The three pH analysis method are given below,
Portable pH Meter or tabletop pH meter
pH analysis with Liquid Reagent
pH test paper
Note: The tabletop pH meter is very costly & it uses basically in the Chemical laboratory.
Portable pH Meter:
Description
Images
01.
Konvio NEER pH Meter:
• This digital screen displays that have upgraded pH meters, data is more transparent.
• This pH meters are lightweight and portable, you can take them everywhere, and they are the ideal tester for home and outdoor use.


02.
Hi-Tech Digital pH Meter:
• Hi-Tech pen-type pH meter is a portable meter.
• Pocket size, lightweight and portable.
• Gives you an accurate reading and 5 Minutes Auto Shut Off Function.
• Measuring pH limit: 0.0 – 14.0 ph ; resolution: 0.1 pH ; accuracy: ±0.1 pH (20°c), 0.2 pH



How to use a Portable pH meter:
First switch on the pH meter.
Dip meter into the water on the maximum discharge line.
Initial reading is not stable & after a few minutes when reading stable, take pH reading.
After complete analysis of water pH, you must clean the electrodes and dry gently using filter paper.
pH Test Liquid Reagent:
Description
Images
01.
Universal Indicator for pH Analysis:
• The Universal Indicator is a bast pH analysis reagent for the use of Drinking water or Industrial water.
• This is the cheapest water testing reagent & accuracy level excellent.


02.
Flemco pH Analysis Reagent Liquid:
• Flemco pH reagent pH range analysis from 3.0-10 For clear water with colour comparison method. It is a Non-hazardous product.
• Easy to use the squeeze bottle.


pH Test Paper:
Description
Image
01.
pH Test Paper for pH Analysis:
• This is a high accuracy pH test paper, able to pH check from 2-10.5 pH
• Every pack has 10 books & each book contain 20 Papers.
• The pH colour chart are attached in every pH paper book.


02.
Fisher Scientific 10140 Indicator Papers:
• Each packet contains 10 books (each book contains 20 papers).
• It is new & authentic standard, pH 1-14 color chart test strip. The pH result how within 15 seconds.
• Can be used to measure water, lemon juice, vinegar, milk, liquid detergent, saliva, urine, sweat .etc.


Conclusion:
You can check the water pH to follow any one method. The pH meter gives the exact result of pH, But it needs calibration every month. It is also easy & anybody can do to follow the instruction.
It's better if you go with a pH reagent. It is a liquid reagent & after adding this reagent to the water, based on pH value, the colour development. You can match with colour comparison chat & find the pH value.
The pH analysis is an additional goal to know the drinking water pH, but our main goal is to drink 100% pure & safe purified water.
Right water purifier selection is not an easy job for maximum people's but We make it easy for you.
Different Quality of Water pH Range:
| | | |
| --- | --- | --- |
| Sl No | Different quality of water | pH Range |
| 1. | The pH of distilled water | 5.5 – 6.0 |
| 2. | The pH of rainwater | 5.0 – 5.5 |
| 3. | The pH of pure water | 7.0 |
| 4. | Seawater pH | 7.5 – 8.5 |
| 5. | The pH of lemon water | 3.0 – 4.5 |
| 6. | The pH of limestone water | 8.0 – 10.0 |
| 7. | The pH of lime water | 7.5 – 9.0 |
| 8. | The pH of normal water | 6.5 – 7.5 |
| 9. | The pH of RO water | 6.2 -6.8 |
| 13. | The pH of watermelon | 5.2 – 5.8 |
| 14. | The pH of mineral water | 7.5 – 8.5 |
| 15. | The pH of ocean water | 8.0 – 8.5 |
| 16. | The pH of water bottles | 6.5 – 7.0 |
| 17. | The pH of hard water | > 8.5 |
Useful link:
# 10 Best RO Water Purifier 2020 | 100% Health benefit |Guide & Reviews!
# Complete Guide for Buying A New Water Purifier