Are you looking to buy a new TDS meter for analysis of drinking water? Before buying a new TDS meter, first, you need to know about TDS. TDS full form is Total Dissolve Solid & TDS means how much soluble solid particle is present in the water. The TDS meter can measure the total number of dissolved solids present in the water.
The drinking water TDS level plays a major role in your family health. Very high TDS or low TDS in the drinking water does not good for your health.
TDS is a combination of organic and inorganic particles in the water. It includes anything that exists in water except pure H20 molecules. These particles are primarily minerals, salts and organic matter & it is a water quality indicator. High TDS usually indicates Hard water & low TDS means sweet water.
Taste of the Water with Different TDS Level:
| | |
| --- | --- |
| TDS level (mg/litre) | Water Quality Rating |
| Less than 300 mg/litre | Excellent |
| 300 – 600 mg/litre | Good |
| 600 – 900 mg/litre | Fair |
| 900 – 1200 mg/litre | Poor |
| above 1200 mg/litre | very salty |
This data has been collected from https://www.who.int/water_sanitation_health/dwq/chemicals/tds.pdf
How to Analysis TDS in water?
Evaporation method
TDS meter
The evaporation method is the time taken & need so many apparatus for the analysis of TDS. Basically, this method is used in laboratory chemists.
TDS analysis in the TDS meter is very simple & get instant results. You do not need any technical knowledge to analysis TDS with the meter. Just deep the TDS meter probe inside the water & switch on, you see the result instantly.
The pen-type portable TDS meter is very handy & also cost-effective. Now maximum peoples are concern about drinking water & they are buying package drinking water or used home water purifier. TDS meter helps you to check your drinking water quality.
I have found 10 best quality portable TDS meters after researching many hours in the market.
Top 5 TDS Meter in India List:
| | | |
| --- | --- | --- |
| Sl No | Product | Image |
| 1. | Konvio Neer portable TDS Meter: | |
| 2. | Digital LCD TDS Meter for Water Analysis: | |
| 3. | Nexqua Dew Digital LCD Display Portable TDS Meter: | |
| 4. | WELLON Pocket Digital LCD TDS Meter: | |
| 5. | HM Digital TDS3 Pocket TDS Meter: | |
8
Easy Six Step to Analysis TDS:
Open the protective cap.
Turn on the TDS meter.
Immerse the meter in water up to the maximum level.
Move the meter lightly to remove any air bubbles and wait for the display to stabilize.
Press the hold button to see the fall from the water.
Turn off the meter, remove and dry the electrode before re-inserting it into the protective coating
Multipurpose Uses:
• Drinking water
• Water filtration and purification
• Hydroponics to test nutrients
• Aquariums water
• Pools water
Best TDS Meter for Drinking Water Review:
1. Konvio Neer Portable TDS Meter:
Water is a big part of our daily life. To maintain your family's health starts with a home water test first. Everyone wants to know the drinking water quality. The Konvio neer TDS meter is the perfect tool for measuring and find your water TDS level. TDS meter helps us to ensure water quality. It's a cheap way to add extra peace of mind. The Konvio neer digital TDS water tester will read the overall water purity level with just a push of a button,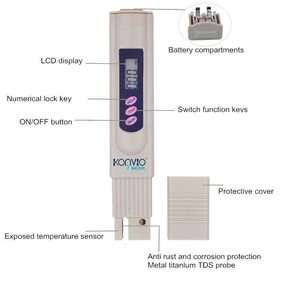 Technical Details:
KONVIO NEER TDS Water Test Meter Digital LCD built which is easy to read and understand from the display screen.
Konvio Neer Tds meters can be appropriately applied to check the water quality of RO water purifier membrane systems. It is small and light in weight. This Tds meter ensures that the water you are drinking is safe and healthy for you.
The auto-off function is turned off this meter automatically after 10 minutes of inactivity.
2. Digital LCD Pen Type TDS Meter:
This is a easy & high-sensitivity water testing device. The digital display is easy to understand & read the TDS report. Quick and fast analysis of TDS & temperature (temp) and easy calibration at home.


Technical Details:
Small enough to fit in your purse, pocket, or your travel bag easily. This professional style TDS pen comes with a cover to keep it safe and useful.
Quick results are displayed to you about water TDS and easy to understand from a large display screen.
It is the best meter for analysing total dissolved solids and temperature at home or office, swimming pool, aquarium, pond, canal, river, wells, rainwater harvesting, greenhouse or garden.
3. Nexqua Dew Digital LCD Display Portable TDS Meter:
Water testing using a TDS meter that will provide a report and explain water quality. If you can see contaminants in your water, you can find a filtration solution to meet all your water goals.


Technical Details:
TDS measurement range 0-9990 ppm . Ideal tool for testing drinking water, aquariums, raw water, hydroponics, pools etc.
High accuracy maximum tolerance less than +/- 2%, and easy to use.
Quick read and automatic shutdown function & after 10 minutes of inactivity, the TDS meter will automatically stop saving battery power.
TDS meters are equipped with high-quality titanium alloy probes and reliable automatic temperature compensation to maintain accurate readings at different temperatures.
4. WELLON Pocket Digital LCD Portable TDS Meter:
Wellon pocket is a high rage 0-9990 ppm digital TDS meter & it has accuracy 98%. This is the best quality TDS meter at the cheapest price.


Technical Details:
WELLON TDS meter is highly efficient and accurate due to advanced microprocessor technology.
The meter turns off automatically after 10 minutes of not using to save battery.
Built-in digital thermometer and display will give you addition feature.
Easy to use & easy to carry in your pocket.
5. HM Digital TDS3 Pocket TDS Meter:
This HM Digital TDS meter is a cheap and convenient digital tool for instantly testing TDS water level. You can easily find out the quality of your water using this water purity tester.


Technical Details:
It is highly efficient and accurate due to its advanced microprocessor technology.
The HM digital TDS meter water purity tester saves measurements for convenient reading and recording.
The product comes with a built-in digital thermometer for hold function and temperature measurement.
This item can be used as a water purifier and filter, food (vegetable, fruit), beverage quality monitoring, pool, spa, aquarium and hydroponic.
Another 5 Best Quality TDS Meter:
| | | |
| --- | --- | --- |
| Sl No | Product Name | Image |
| 1. | Yuv'S portable Tds Meter: | |
| 2. | GLUN Pen Type Digital LCD portable TDS Meter: | |
| 3. | Thermocare Digital portable TDS meter: | |
| 4. | Ionix Pre-Calibrated portable TDS meter: | |
| 5. | HM Digital HM AP-1 TDS Tester: | |
Portable TDS meter Handling Procedure:
TDS Meter is not waterproof. Do not dip the TDS meter beyond the water level limit.
Do not store meters in direct sunlight or at high temperatures.
Do not try to open the electronics of the unit at the house.
Please use the calibration guide if the product does not show accurate readings.
Portable TDS Meter Calibration Procedure:
The TDS meter is calibrated by checking the TDS of standard KCl
solution.
Preparation of 95.5 ppm TDS solution:
Dissolve 7.45 mg of POTASSIUM CHLORIDE (KCl) in 100 ml of distilled water & mix it properly.
Calibration Step:
Immerse TDS meter in calibration solution up to maximum level.
Readings will appear on the display.
Now reset the reading & set it 95.5 ppm with the standard solution.
Take the TDS meter out from the standard solution & start analysis in your sample water.
| | | |
| --- | --- | --- |
| Sl No | Product Details | Buy now |
| 1. | POTASSIUM CHLORIDE (Kcl) LR – 100gm | Buy on Amazon |
| 2. | Disto Pure™ – Distilled Water 99.9% pure (1 Liter) Water | Buy on Amazon |
You may be like to read……