If you're looking for a budget-friendly, good-branded company water purifier, you should go with Aquaguard Delight NXT RO + UV +Taste Adjuster(MTDS). It is a new model water purifier with the latest technology & price under budget.
Aquaguard Delight NXT Review
This water purifier has multi-stage purification technology to ensure your water is clean & safe to drink. The good thing is that it has an LED indicator that alerts you when filter cartage needs to be replaced. The 6-litter water storage tank is sufficient to get water for long hours if any power cu-off happens someday.
The Delight is a good choice for those who want a water purifier with all the necessary features at an affordable price. This model features a semi-transparent storage tank, which is helpful if you want to see the water level.
Another good point is Delight comes with three LED indicators for water levels, and the UV lamp beeps when it's not working correctly. This water purifier has RO + UV +Taste Adjuster(MTDS) & other cartage are sediment filters, a Chemi Block, a post-carbon filter, and a UV disinfection chamber.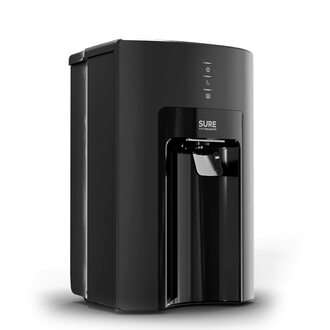 Aquaguard Delight NXT Feature
Technology: RO+UV+Taste Adjuster(MTDS)
7 Stages of purification
UV e-boiling, water boiled for 20 minutes
Water Taste Adjuster(MTDS)
Filter change alert inbuild
1 Year Comprehensive Domestic Warranty On All Parts Excluding Consumables
Why Aquaguard Delight NXT water purifier best for you?
These 7 stages of purification will remove lead and mercury, killing bacteria and viruses that can cause disease.
Water can boil for more than 20 minutes, makes that's as pure and safe water.
You can adjust the water taste with the help of Taste Adjuster(MTDS).
The Alert system notifies you when your device needs to be serviced. Booking a service request with Eureka Forbes is now even more accessible.
This compact, stylish design will enhance your kitchen's aesthetics.
Alerts you when there are service reminders, end-of-life of cartridges, filter warnings or electronic errors.
You can mount it on the wall or place it on the counter.
It comes with a 6-litre storage tank that is inbuilt. This ensures you always have purified water at your tap.
One year RO Membrane Warranty will give pure water throughout the year without losing a single rupee.
Pros
E-Boiling technology kill 100% micro organism from the water.
7 stages purification give you clean & safe water.
MTDS help you adjust water taste.
Different Model of Aquaguard Delight NXT
Related Article