Aquaguard Smart Plus can remove harmful impurities from water, including lead, mercury, arsenic, and pesticide residues. They also remove several organic and inorganic particles, collectively known as Total Dissolved Solids. As a result, you can expect to receive pure, healthy water with essential minerals.
Aquaguard Smart Plus can turn off automatically when the filters are no longer functional. They also follow strict quality norms at their manufacturing plants. The company also offers water testing services in major cities, where they will collect water samples for a nominal fee.
This water purifier is designed to handle any source of water purification, including taps, tanks, and borewells. It also has an advanced alert system telling you when to replace the cartridges or service the machine.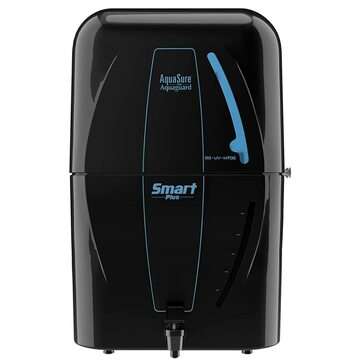 Aquaguard Smart Plus Feature:
Technology – RO+UV+UF+MTDS
6 litres storage tank
Compact & Reliable design
Energy Savings mode
Long Cartridge Life (last up to 6000 L)
Smart indicators (Filtration on/ tank full/low pressure / no water supply)
Voltage fluctuation guard
Stage of purification:
I-Filter >> Chemi-Block >> Mineral Guard >> Membrane life enhancer >> RO Cartridge >> RO Cartridge >> UV cartridge
Aquaguard Smart Plus Review
Aquasure Smart Plus is a high-quality water purifier that removes TDS, residual organic impurities, and pesticides. It also eliminates waterborne disease-causing bacteria and viruses. Its six-stage purification process is ideal for water from municipal companies, borewells and tankers.
It has 6000-litre cartridge life reduces the need for frequent filter changes. It also uses an intelligent energy-saving mode that reduces electricity costs. Another feature of this water purifier is that it comes with a 6-litre storage tank.
Another great feature of this water purifier is its affordability. It costs less than 12000 thousand rupees. It also comes with a pre-filter. Its design is simple and stylish. The water storage tank is made of food-grade plastic that is durable and non-toxic. It also has a water level indicator, so you can tell when it is full or low.
The Aquasure Smart Plus is a great option for those who don't want to spend much money on a water purifier. This brand is well-known in the market and has earned a significant market share in online and offline retail. Its water purifiers come with premium features and are affordable for middle-class consumers. This makes Aquasure a great option for families on a budget.
Another notable feature of this water purifier is its tank capacity. It has a 6-litre capacity and a multi-stage purification process. Its double purification system removes harmful bacteria and viruses. It also comes with a mineralised, which ensures that water has the right amount of minerals.
How easy is the Aquaguard Smart Plus water purifier to install and maintain?
It is generally easy to install and maintain the Aquaguard Smart Plus water purifier. This unit comes with clear instructions for installation, and most users should be able to install it with minimal difficulty.
In terms of maintenance, the Aquaguard Smart Plus water purifier has a self-cleaning feature that helps maintain the filter and keep it in good working order. It is recommended to clean the storage tank regularly and change the filter according to the manufacturer's instructions to ensure optimal performance.
Related Article: