The Aquaguard is a trustable water purifier company & Aquaguard Aura is one of best model water purifier. In this article, we can see details review of the Aquaguard Aura water purifier.
Aquaguard Aura Review:
The Aquaguard Aura RO+UV+MTDS is the best for its Superior design and advanced technology. It provides optimum purification through its dual RO + UV technology. Taste Adjuster (MTDS) ensures sweet-tasting water regardless of the water source. Its activated copper technology imparts the goodness of copper in the water, and mineral protector technology retains the essential natural minerals. They are designed to purify water from multiple sources.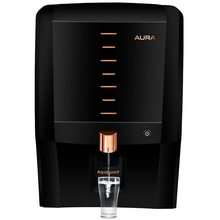 Aquaguard Aura Feature:
Technology: RO+UV+MTDS with Active Copper & Mineral Guard
Purification Stages – 8 stage
Storage Capacity: 7L
UV e-boiling technology
Unique UV E-Boiling
1 year warranty
RO membrane life 6000 liter
TDS Limits maximum 2000 mg/l
Stage of purification:
I-Filter >> Chemi-Block >> Mineral Guard >> Taste Adjuster(MTDS) >> RO Cartridge >> RO Cartridge >> UV e-boiling >> Active Copper
Aquaguard Aura Video Review
Specification:
RO technology removes TDS, hardness, pesticides and heavy metals and also eliminates harmful bacteria, viruses, protozoa and cysts.
Complete 8 stages of purification with high water storage capacity of 7 liters.
Activated copper technology provides the goodness of copper in water.
Advanced Mineral Protector technology helps to provide the perfect blend of safe and healthy water with all the essential natural minerals like calcium and magnesium.
UV E-boiling technology ensures that every drop of water is as healthy and safe as boiled water for 20 minutes.
Taste Adjuster (MTDS) controller enables adjustment of flavor based on water source.
If the inlet water pressure is less than 03 kg/cm sq., a booster pump is required to function the water purifier. Available through our service technician at an additional cost.

REASONS TO LIKE
Advance technology
Complete 8 stages purification
Mineral Guard technology to retain minerals
Wide service range
REASONS TO DISLIKE
Filter change alert does not available
Related Article: