Aquaguard Delight is one of the best Aquaguard water purifier based on quality & price. Aquaguard Delight features multi-stage purification that provides not only 100% clean but also safe and delicious drinking water. It combines the best class of purification technology like RO + UV + MTDS.
Aquaguard Delight Water Purifier Review:
This purifier can treat water with input TDS up to 2000 ppm. With a TDS reduction of up to 90%, this water purifier ensures safe and delicious drinking water.
This water purifier has a sediment filter, cam block, RO membrane, UV disinfection chamber, and post-carbon filter.
It has an advanced TDS controller feature that allows you to adjust the taste and TDS level of water according to your needs. This ensures that you will always get sweet delicious water.
According to the specification, the filter cartridge is designed to last up to 6,000 litres. So, this cartridge will last about a year for a four-member family if using about 15-20 litres of water daily.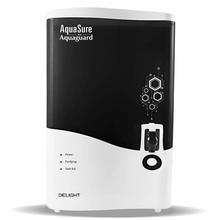 Aquaguard Delight Features:
1. Technology: RO + UV + MTDS:
The Aquaguard delight water purifier is a compact and smooth purifier inbuild with an advanced TDS controller (MTDS); you can easily adjust the taste of the water according to the water source. Since people across the country are trusted and the most preferred brand in 1500 cities, Aquacio also ensures safe drinking water for millions of people.
2. Multi-stage purification (RO + UV + MTDS):
I Filter -> Chemical Block -> Flavor Co-ordinator (MTDS) -> RO Membrane -> Mineral Cartridge -> UV Chamber
3. Long-lasting cartridge:
The water purifier comes with a 6000 L cartridge life that ensures a safe water supply throughout the year. The standard test conditions are mentioned in the user manual.
4. Smart purifier-LED indicator:
Shows power on, purification and tank in full condition.
5. Large storage tank:
It brings 6 litres of storage capacity to ensure safe drinking water even with no electricity. LED indicator for power on, purification process on / off, and full tank.
6. Energy saving mode:
Save power with a power saving mode that automatically shuts off the power supply once the tank is full.
7. Safe and pure water:
Advanced TDS Controller (MTDS) lets you adjust the water taste according to the water source. In addition, with the ability to treat water that has MTDS levels up to 2000 ppm, you drink water that is not only delicious but also safe to drink.
8. Warranty:
1 year warranty has given by Aquaguard company.
How does Aquaguard Delight water purifier work?
I Filter: Removes fine suspended particles from the water like dust, dirt, silica etc.
Chemi block: Bad taste and odour absorbs excess chlorine, reduces biological impurities.
Taste Coordinator (MTDS): Adjusts the taste of water depending on the water source feed to the filter.
RO membrane: RO membrane Eliminates bacteria, viruses, Reduces TDS, hardness and heavy metals such as arsenic, lead etc.
Mineral cartridge: Remove residual organic impurities & restore original taste. It is balance the water pH level.
UV chamber: Every drop of water ensures pure, healthy and safe to drink.

Aquaguard Delight Water purifier video review
Why Aquaguard Delight water Purifier is Best?
The Aquaguard Delight looks attractive and comes with a semi-transparent storage tank. The Aquasure Delight Water Purifier is relatively compact and can be easily mounted on a wall or placed on a table/kitchen counter. This water purifier easily adapts to the needs of your modular kitchen.
This water purifier also comes with a large storage tank of 7 litres, ensuring that you will never run out of clean and safe drinking water. Aquaguard and Aquasure are popular brands of water purifiers in India. After-sales service and fast customer support are crucial for water purifiers.
Pros
Aquaguard Delight water purifier is compact & attractive design.
TDS controller can maintain all mineral level.
Affordable minimum price with complete purification.
High storage (7-Litres) capacity.
Cons
The power adapter is given outside the water purifier body.
Why you select It?
The largest USP of any Aquaguard Delight water purifier is their world-class water purifier supported by highly reliable customer service.
Aquaguard has presented its reputation with this wonderful Aquaguard Delight Water Purifier. If you decide to buy this water purifier, you will find all these things at very affordable prices.
Related Article: