Aquasure Amaze from Aquaguard, a smooth and compact Purifier, ready with an innovative TDS controller (MTDS) where you can quickly adjust the taste of water according to the water source. Aquasure also guarantees safe drinking water for millions of people as it is trusted by people across the country and is the most choice able brand name in more than 1,500 cities.
Aquaguard Amaze range of Water Purifier; A visual surprise, consisting of sophisticated products keeping in mind the needs of urban consumers, this water purifier includes dual RO + UV + MTDS innovations that ensure that the water you consume is safe. Inbuild the advanced TDS regulator which changes the taste of water according to the water source. Purification capacity 6000 L.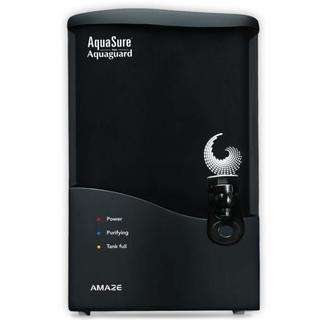 Aquasure Amaze Key Feature:
Technology: RO+UV+MTDS
Storage Capacity: 7L
Smart Purifier-LED Indicators
RO membrane life 6000 liter
Auto switch off after tank full
TDS Limits maximum 2000 mg/l
Aquasure Amaze Video Review
Expert Review:
• The Aquaguard Amaze has a 6000 L cartridge life and smart indicator; this water purifier will guarantee safe water stay for a long time.
• Smart LED indication for filtration, tank completion and power-on condition with multi-stage purification technology including RO + UV + MTDS You can be sure that water is 100% safe for you and your family.
• The state-of-the-art TDS Controller (MTDS) lets you adjust the taste of the water based on the water source. Also, with the ability to treat water that has MTDS levels up to 2000 ppm, you drink water that is not only Yami but also safe.
• It is a good purifier with a compact, elegant style that fits perfectly with your kitchen area. Save your electric bill with an energy-saving mode that shuts off the power supply when the tank is full.
Related Article:
• Complete Guide for Buying A New Water Purifier.
• Best UF water purifier buying guide.
• Best RO Water Purifier Review & Buying Guide
Specification:
| | |
| --- | --- |
| Purification Modules | Sediment Filter, Chemi Block, RO Membrane, UV Disinfection Chamber, Post Carbon |
| Purification Stages | 5 Stages |
| Storage Capacity | 7 liter |
| Indicators | Smart LED indication for product status, purification, tank full and alert for Services / errors. |
| Applicable TDS Range | 1 – 2000 mg/l |
| Auto-shut off mechanism | Yes |
| Auto Start | Yes |
| Overflow Protection | Yes |
| Filter Life | 6000 liter water purification |

Pros
Best quality at cheap price
Full automation purification Start & Stop
5 star rating was given more than 1800 peoples at Amazon.
100% safe & pure water
Sophisticate design
Cons
Tank capacity might be small for large families