Kent is the most popular water purifier brand in India. Kent Water Purifiers have millions of loyal customer. Different models of Kent Water Purifier are available based on customer requirement.
The Kent Supreme Plus is a premium plus water purifier feature that delivers 100% pure water and saves rejected water per drop. Innovative Mineral Retum technology features RO + UV + UF + TDS control and unique in-tank UV sterilization. Supreme Plus is a genuine plus product. Kent RO Supreme Plus water purifier comes with future zero water drainage technology, ensuring that no water drop is wasted during the purification process. This water purifier is best for brackish, tap and municipal water.
KENT Supreme Plus Water Purifier Review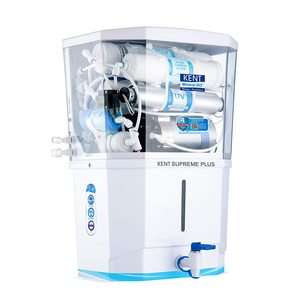 Key Feature:
Six-stage water purification
In-Tank UV Disinfection
Storage Capacity: 8L
Zero Water Wastage
Purification Production Rate: 20L/hr Max
Auto On/Off Operation
TDS control: TDS control regulator maintains essential minerals
KENT Supreme Plus video Review
Expert review
Multiple purification stages by RO + UV + UF + TDS control remove dissolved contaminants such as chemicals, bacteria, viruses, and salts, making the water 100% pure and suitable for drinking. In-tank UV LED keeps pure water pure for a long time.
Equipped with zero water drainage technology, Kent Supreme Plus uses its pump to reject discharged water in overhead tanks, resulting in no water wastage during the purification process.
The TDS control system allows the TDS level of pure water, which maintains the required natural minerals in the drinking water.
It is best filter for tap water and municipal water supply. Capacity of 8 liters and purification capacity 20 liters per hour.
A wall-mounted design is suitable for interior design. Compact design requires less space for installation.
Fully automatic operation with auto-on and auto-off function ensures you don't run out of pure water.
Pros
TDS Controller maintain the essential minerals
Fully Automatic Operation
Wall mountable design & Compact Design
1 Year Warranty + 3 Years Free Service AMC
Most Trusted & Awarded product
World's best quality certification

Related Article: