Aquaguard Marvel RO+UV+UF+MTDS has an innovative design and advanced technology. It provides the highest level of purification with the dual technology of RO and UV. Taste Adjuster makes sure that consumers get the most delicious tasting water, regardless what the origin of the water. The Active Copper Technology provides Goodness of Copper in water, and mineral Guard technology retains essential natural minerals found in water. The machine is designed to clean water from various sources. It is not just technologically sophisticated but will also beautify your kitchen, making it the perfect gift for your family and guests.
Aquaguard Marvel Water Purifier Review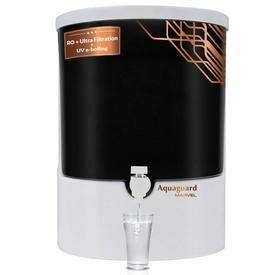 Aquaguard Marvel is a must for anyone who wants to enjoy the benefits of water, which is free of any harmful impurities. The purification process is carried out through eight stages that remove all harmful elements like hardness, heavy metals, pesticides, bacteria, or even cysts.
The UV eboiling technology gives the water the pureness that boiling drinking water in 20 minutes could provide. Its Mineral Guard feature makes sure that the minerals in water are not removed when purifying it. These minerals are beneficial to the body and, therefore, the purifier can keep them intact throughout cleansing.
Aquaguard Marvel Feature :
RO+UV e-boiling+UF+MTDS
8 stages with UV e-boil for final purification of water
Storage capacity of 8 litres
Active copper technology
Mineral guard technology
Taste Adjuster or MTDS
Chemi-Block Remove Excess Chlorine and Organic Impurities
Specification:
This Aquaguard water purifier can save up to 60% of the water that conventional RO+UV water purifiers. In addition, Aquaguard Marvel purifiers use RO+UV+UV+MTDS technology can purify water and regulate its flavor.
8-Stage Purification: I-Filter >> Chemi-Block >>UF >> RO Membrane >> Mineral Guard >> Taste Adjuster (MTDS) >> UV e-boiling >> Active Copper Cartridge
UV e-boiling technology assures that every drop of water you drink is as clean and safe as water boiling over 20 mins.
Purify water from a variety of sources like tanks, taps, and borewells.
Purifies water by removing high TDS up to 2000 mg/l.
The chemi-block feature helps remove excess chlorine, while the Mineral Guard technology retains the beneficial minerals in the water.
The manufacturer gave one year warranty from the date of purchase.

Benefits of using the aquaguard marvel water purifier
It offers the highest level of purification due to the dual technology of RO+UV. Taste Adjuster makes sure that the user gets the most delicious tasting water, regardless of the water source. The Active Copper Technology provides the Goodness of Copper in water, and mineral Guard technology retains vital natural minerals.
Pros
Suitable for any source of water
8 stages with UV e-boiling for 20 minute
Taste Adjuster or MTDS ensures that you get sweet-tasting water.
Cons
Old design
No water level indicator
No option to dispense non-Copper RO water
Conclusion :
Although Aquaguard Marvel comes with many beneficial features, the main issue is that it doesn't provide an option to dispense RO water with no copper. It is also possible to consider the style of Aquaguard Marvel somewhat uninteresting and old-fashioned. It lacks advanced features such as indicator alerts for changing filters and filter changes. The design appears to be a little expensive.
Aquaguard Marvel from Eureka Forbes purifies water from any source. The eight-stage purification process and other features like Copper technology or Mineral Guard technology make it more efficient than the typical RO.
Aquaguard Marvel is available in another 3 different variants i.e. RO+AVF+MG, RO+UV+MTDS, and UV+UF.