The Kent Maxx water purifier is a very popular water purifier for low TDS water. It is a UF + UV water purifier. If your home supply water TDS level low, this purifier is a perfect choice for you. We know normal peoples don't know these term of low & high TDS. The full form of TDS is Total Dissolve solids & the presence of quantity indicate the purity of water.
High TDS means high salty water with impurities & Low TDS means sweet water with fewer impurities. The RO water Purifier technology is best for high TDS water, but don't go with an RO purifier if your water TDS level is low.
The UV & UF water filtration technology perfect choice for low TDS water. The UF membrane removes 99% suspended particle, microorganism and UV technology 100% kills bacteria, virus from the water.
Now we can detail a review of the best quality kent Maxx water purifier with the feature.
Kent Maxx Water Purifier Review:
Kent Maxx water purifier uses UV + UF purification technologies to provide 100% pure and germ-free water. A transparent separate storage tank makes it easy to clean the purifier. The Kent Maxx is ideal for purifying water from the tap and municipal water supplies and is suitable for domestic purposes.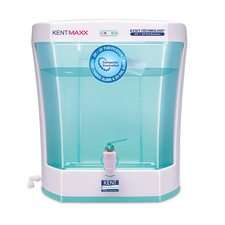 Kent Maxx Key Feature:
UV +UF filtration technology
7- litre water storage tank
UV fail alarm system
Fast Filtration 60-litre per minite
1-year manufacturer warranty
Expert Review:
Kent Maxx uses several purification processes of UV + UF to remove bacteria, viruses and ulcers from the water and makes it suitable for drinking.
The Kent Maxx comes with a computer-controlled operation such as filter change and UV change alarm. The alarm indicates the time of replacement of filters and UV lamps for safety and convenience.
This Kent water purifier is made from ABS food-grade plastic, which maintains the quality of pure water.
The Kent Maxx comes with a separate storage tank for on-site cleaning without the help of a technician. The transparent cover makes the device visually attractive.
This water purifier's auto shut off and auto-start feature is excellent, ensuring that water does not overflow. We do not have to worry about it.
This water purifier comes with a high storage capacity of 7 litres. High storage capacity ensures a constant supply of pure water even in the absence of electricity.
The in-built SMP makes it work well during voltage fluctuations.
Pros
High purification rate, 60 ltr/hr
UV-fail, filter change alert tech
Removal storage tank
Low maintenance cost
Cons
Not suitable for high TDS water

FAQ:
Q. Can I filter municipal water through Kent Maxx water Purifier?
Yes, Municipal water is low TDS water & it was a contaminant during transportation through the pipeline from one place to another. This water is stored water, so it has the chance to grow bacteria & virus. The Kent Maxx water purifier is perfect for removing all these contaminants from the water.
Q. Can I Use it to filter High TDS water?
No, the Kent Maxx water purifier used UF + UV technology. RO water purifier is best for High TDS water.
Q. How much maintenance cost Yearly?
Any water maintenance cost depends on several factors, like your water quality & daily uses for filtration etc. The average maintenance cost Rs. 500/- to 700/- for a 4 -6 member family.
Q. Kent customer support Good or bad ?
Good & quick response.
You May Like to Read: