The Blue Star Opulus water purifier has a powerful 7-stage purification system. These stages work together to create water that is antioxidant-rich and alkaline, helping your body perform at its best. The system includes an external pre-filter, carbon filter, sediment filter, UV lamp, and Immuno Boost Technology. Plus, this water purifier has a 12-month warranty and a replacement filter.
This unit has a stylish and modern design. It does not take up much space in your home. It has a Microcontroller, which automatically turns off the UV lamp when not in use, which helps save on electricity costs. This product can be placed on a counter or wall. It is an excellent water purifier for those looking for a high-quality water purifier at an affordable price.
Blue star opulus water purifier review
The Blue Star Opulus 8 Litres RO + UF + UV + IBT + Alkaline Water Purifier is available in major Indian cities, including Mumbai, Pune, and Kolkata. You can buy it from Amazon, Flipkart, and TATACliq for around Rs11,499.
Blue Star Opulus is a water purifier which uses a 7-stage filtration process to provide safe and healthy drinking water. It has a pre-carbon filter and post-carbon filter that reduces physical and dissolved impurities, as well as a UV lamp that kills microbiological content. Its unique Immuno Boost Technology also adds an antioxidant boost to the water.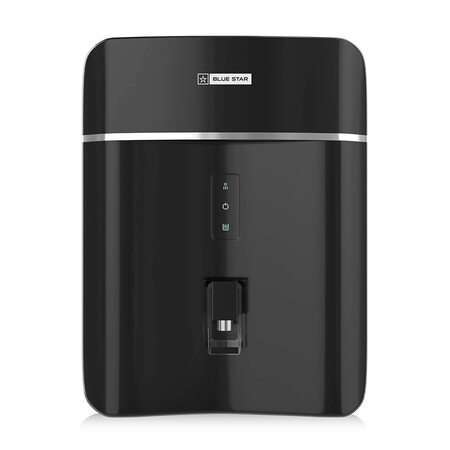 Blue star opulus Feature
Triple layered RO+UV+UF protection
7 Stages purification
Storage Capacity: 8 litres
Immuno Boost Technology (IBT) 
Tank full indicator & UV fail alert
Installation type: Wall mount/counter top
Warranty: 12 months
Why worth to buy blue star opulus water purifier?
The Blue Star Opulus water purifier allows you to drink pure water daily, protecting you against waterborne illnesses. It passes water through several stages of purification, killing bacteria and other impurities. It has an 8-litre tank that allows you to fill up your favorite glass with fresh, mineral-infused water.
Besides being highly efficient, this water filter also has an integrated tank indicator. Its ultra-high-performance RO membrane removes impurities and volatile organic compounds. It also adds healthy minerals and copper-impregnated activated carbon to the water. It can purify up to 285 liters of water each day.
If you are worried about bacteria and other impurities in your water, this water purifier has a built-in UV light that can effectively remove 99.99% of all harmful bacteria. Its advanced technology also eliminates dissolved salts and odor. It also has a TDS controller, which replenishes minerals lost during purification.
This water purifier is available online in various price ranges. Depending on your chosen model, you can purchase it at Amazon, Flipkart, or TATACliq. This brand offers EMI Network Card, a credit card that lets you buy products without paying for them in full at once.
Related Article: