The Havells company manufacture some of the most effective alkaline water purifiers available on the market at the moment. The Havells pro alkaline water purifier is the one of top-rated and most popular water purifier.
Havells water purifiers have their unique design to allow you to fit the purifier at a corner in the house. If you have a small kitchen with nothing left on the wall to install a water purifier, Havells Pro Alkaline is an excellent option.
Havells Pro Alkaline and Havells Max Alkaline Are two different models, but they share the same style and features. The only distinction in style we can see is in colour, and Max is available with a blue-grey shade, whereas Pro features white and beige colours.
Havells Pro Alkaline water Purifier Review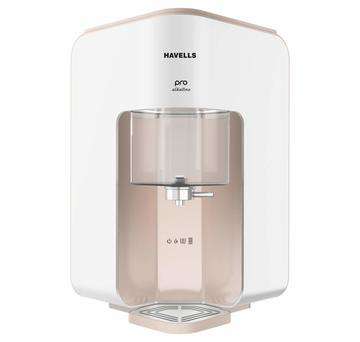 Havells Pro Alkaline Feature:
6 stage water purification
RO+UV technology
100% water purifier by RO membrane
Adds necessary minerals
Increases water pH to make alkaline
Moderate flow rate up to 15L/hr
Excellent & unique design
Table top, flat wall and corner mountable
Great build quality
Removable water storage tank
1 year comprehensive warranty
Water filtration Process
Havells Pro Alkaline water Purifier comes with an advanced six-stage filtering system for water. The six stages of the filtration process include sediment filter, pre-RO carbon filter, RO membrane, post-RO carbon filter, Taste Adjuster and the UV treatment.
The Sediment filters remove all suspended particles, and then the water is then sent through the RO membrane to remove the impurities that are dissolved.
With Havells Pro Alkaline, 100 per cent of the water gets directed through the RO treatment, and there is no TDS controller to blend non-RO water.
The mineral cartridge has all the vital minerals required. It provides the correct quantity of minerals to RO-treated water. It also assists in keeping the pH within the range of 8-9 to ensure that the optimal alkaline water is available constantly.
Then, it is passed to a UV lamp where viruses, bacteria, and fungi are destroyed.
Expert review of Havells Pro Alkaline water Purifier
Storage tanks are composed of transparent insect-resistant shell that is completely safe for food. It has a sleek metal water dispensing pipe. It also comes with a flat bottle guard on the bottom to ensure that you don't need to keep the bottle in place until it's full.
Havells Pro Alkaline water purifier comes with 7L storage tank that can keep pure water. 7L is the ideal size for families with 4 to 5 people.
The primary characteristic of Havells Pro Alkaline is its ability to maintain pH between 8.0 and 9.0 throughout the day. The natural water sources for drinking are alkaline; therefore, drinking alkaline water is a healthier option.
The iProtect Monitoring system for purification ensures that each drop of water that flows from the purifier is secure. If the filters are not working, there will be no water to dispense.
It comes with intelligent processing alerts to purify tank levels and self-diagnostic. In addition, it has error alerts that include UV lamp, filter as well as pump malfunction. Also, it has a filter life indicator that tracks and shows the life expectancy of filters to plan to replace it at the appropriate moment.

Pros
Three-way mountable (Tabletop, flat wall and corner)
100% water gets from RO mrmbrane
Removable water storage tank
Facility to increase water pH to make alkaline
Unique design
Cons
No Ultrafiltration
High maintenance cost
Conclusion:
If you're in search of the purification of water with alkaline, the Havells Pro Alkaline is the most effective model available at this price point.
The six-stage purification process combined with a great corner mountability makes this model a fantastic option for anyone searching for the most effective water purifier that will be less than 15000 in India.
Frequently Asked Questions (FAQs)
Q. Is Havells a good brand?
Havells India Limited is a booming FMEG firm with over 10,000 employees in India increasing in size each year. It acquired domes from top brands like Standard, Crabtree, Reo and Promptec.
The company has entered White goods in the last year after acquiring Llyod company to be a major player in consumer durables. It recently introduced Water Purifiers and planned to launch new products to establish its mark more strongly in the marketplace.