Havells Max RO UV Water Purifier is compared to the same as Havells Pro Water Purifier; the only difference between the two purifiers is, Max has one stage extra Revitalizer Cartridge".
This "Revitalizer Cartridge" purification does not additionally purify the water; it reorganizes the water molecules to make the water healthier. This process makes purified water biologically active, which improves hydration and mineral absorption.
Havells Max RO UV Water Purifier Review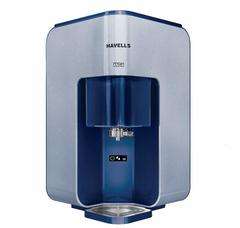 Key Feature:
Technology: RO + UV +UF + IBT+ Alkaline
Filtration step: 8-stage water purification
Storage Capacity: 10L
Purification Production Rate: 12L/hr Max
Aqua Taste Booster
Alkaline Antioxidant Water
Aqua Mineral Infuser
Filter Change Alert
Revitalizer Cartage
iProtect Purification Monitoring
Zero Splash Faucet
Smart Alerts
Havells Max RO Specification :
100% water passes through RO membrane and then UV purification to ensure safe and pure drinking water.
It corrects the pH of purified water, adds back the full spectrum of natural minerals and trace elements, and always delivers healthy and tasty water.
Revitalizer cartridge is reconstituted water molecules and makes it biologically active, which improves hydration and mineral absorption.
The mineral cartridge corrects the pH of pure water, adds natural minerals to provides healthy and delicious water.
iProtect Purification Monitoring continuously monitors the purification process, always ensuring safe water.
Unique Soft Touch Faucet: Benefiting clean water, zero splash and smooth flow.
Process Alerts systen can Self-diagnostics of purification and tank full, Error warning of UV, SV or pump failure.
Havells Max can easily mount on a tabletop, straight wall or corner,
Water Purification step:
Sediment Cartridge >> Activated Carbon Cartridge >> UF >> RO Membrane >> Germicidal UV >> Mineralz Cartridge >> Silver Impregnated Taste Enhancer >> Revitalizer Cartridge

Pros
Zero splash faucet
Advanced multiple alert system
Removable tank
8 stages purification
3 way mounting
Conclusion:
The water passes through 100% RO & UV is complete safe drinking water in 7 steps with UV-C. The revitalizer reorganizes water molecules for better hydration, alkalinity and mineral absorption. Mineral technology fortifies pH balance and safe and healthy water.
Cover your product with attractive extended warranty plans to enjoy a lifetime of safe and healthy drinking water from Havells currently being offered by Havells.
Related Article: