V Guard Zenora Water Purifier Review
The V Guard Zenora water purifier is designed for Indian water conditions. The intelligent design combines world-class RO Membrane and multi-stage pre-treatment and post-treatment to ensure that Zenora effectively eliminates impurities common in Indian water supplies. It also provides long-lasting performance and minimal maintenance. The engineers spent years researching to ensure that Zenora was perfected before it reached you.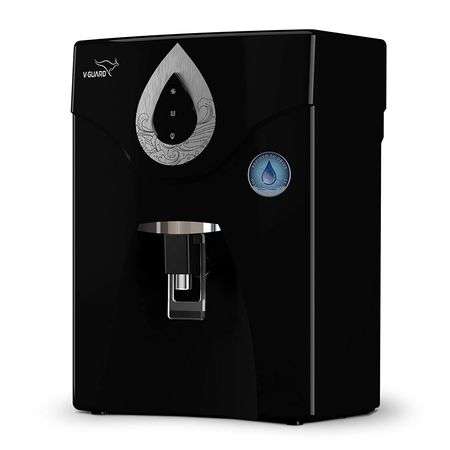 V Guard Zenora RO+UF+MB 7 Liter Water Purifier gives you clean drinking water, which is a fundamental necessity. It improves the water's taste by removing volatile organic impurities. V Guard water purifier provides clean, odourless and higher-quality drinking water. TDS Range: 2000 ppm. It weighs 6.35kgs. It can store up to 7 liters of water and has a 36W Power Consumption. V-Guard Zenora RO+UF+MB 7 Liter Water Purifier water purifier is guaranteed to provide pure and clean water.
V Guard Zenora Overview
Rating – 4.3/5
7 Stage Advanced Purification
Water storage Caspacity 7 liters
RO+UF+MB Technology
Input TDS limit up to 2000 ppm
Suitable for borewell, tanker, and municipal water
Eliminates Microbes, organic and chemical impurities
V Guard Zenora Video Review
Expert Review
Install the V Guard Zenora RO+UF+MB Electric Water Purifier to ensure you drink the highest quality water possible and hydrate your body. This water purifier features an advanced UF membrane that separates dirt, mud and sand from the water. It is easy to get rid of excess chlorine. The V-Guard Zenora RO+UF+MB Electric Water Purifier has an absorbent pre carbon filter that removes organic impurities. Superior RO Membrane is used to purify water.
The water purifier is in line with the most recent technology. It has an intelligent design that balances pH levels and restores the natural flavour of the water. This is vital for your body's health. V Guard Zenora RO+UF+MB Electric Water Purifier's unique design is what makes it stand out. You can either mount the water purifier on a wall or place it on a countertop. It is suitable for both hard and soft water. It also features LED indicators to indicate whether the tank is full or low pressure. It offers multiple features that make it a great choice for your family. Get fresh water with smart technological innovation by purchasing the water purifier
Pros
Made For Indian Water Conditions
One Year Comprehensive Warranty
Free External Pre-Filter
Reasonable price
Two Pre-Emptive Maintenance Services
Frequently Asked Question (FAQ)
Q. Does V Guard Zenora water purifier allow TDS control?
This water purifier doesn't have a TDS controller, which the RO purification stage. It provide 100% RO purified water with approximate 90% TDS reduction.
Q. How many years of warranty provided V Guard Zenora water purifier?
V-Guard product company will provide a one-year warranty; additionally, you can buy 2 years extended service warranty from a third party.
Q. How much is litre water wasted for 1 ltr water purification?
65 to 70% of water is wasted during water purification.
Can I Use this water purifier for borewall water?
Yes, you can use this water purifier for borewell water but you can remember TDS not more than 2000ppm, Hardness not more than 500ppm, Turbidity not more than 5 NTU and Iron not more than 0.3ppm
Read also…