We all know water is life, and we need clean drinking water for a healthy life. The big question is how we can ensure that the water we drink is safe for our bodies. If water is 100% clean & free of microorganisms, it is safe for our bodies. You can obtain it from HUL Pureit Ultima RO UV Water Purifier. This advanced water purifier can clean 10 million germs from 1L of water. The water undergoes various treatments such as UV and RO to ensure the safest drinking water for you and your family.
You don't need to worry; the HUL Pureit Ultima RO UV water purifier comes with an advanced warning system that lets you know a few days before that the Germkill cartridge is going to stop. You have enough time actually to act and get ready with the replacement.
HUL Pureit Ultima RO UV Water Purifier Review :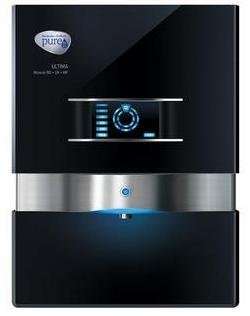 Key Feature of HUL Pureit Ultima RO :
Six stages water purification with RO & UV
10L water storage tank
Advance alert system
Digital display panel
Water purity indicator
Removes 1 Crore Virus from 1 liter water
RO Protection Lock
TDS Modulator for enhance the water taste
Maximum TDS limit 2000 ppm
Purification Process of HUL Pureit Ultima RO UV Water Purifier:
Pre-Sediment Filter >>> Pre-RO Carbon Filter >>> Post-Carbon Sediment Filter >>> RO Membrane >>> UV Reactor & TDS Modulator >>> Post-RO Carbon Filter
Specification :
The Pureit Ultima RO UV can purify water up to 28 liters per hour.
The overflow protection feature in the HUL Puret Ultima 10L RO UV Water Purifier ensures that water does not overflow from storage tank.
The Auto Shut Off and Auto Start feature ensures that you always have pure water available for drinking.
Advance digital display panels show the the Germkill kit status and alert you 15 days prior to the end of the kit.
Modular TDS which after purification adds minerals and enhances the taste of water.
RO protection lock that automatically shuts off the water flow when the germkill kit expires
Electronically controlled soft-touch buttons allow you to dispense water at the press of a button.
Advanced Voltage Fluctuation Guard: It protects your purifier from sudden voltage fluctuations as high as 300V and works even in voltages as low as 150VAC.

Pros
Beautiful Design & Premium Look
Capacity to removes 1 Crore Virus in 1 litre of water
Live Reading of outlet water TDS
Advance alert system
Auto Shut Off & Auto Start feature.
Cons
Soft touch water Tap doesn't Work without power
Maintanance cost high
Conclusion:
HUL Pureit Ultima RO UV Water Purifier is the best RO water purifier for a large family. Suppose you are more interested in buying the best water purifier. his six-step purification with advanced technology gives you 100% safe and sweet drinking water.