Pureit Classic Water Purifier RO + UV has an elegant and sleek design that matches your modern lifestyle and adds even more elegance to your kitchen. This water purifier will make pure and germ-free clean drinking water available in less time.
Buying HUL Pureit Classic is a big deal for you as it offers good value for your money. So, if you are looking for the best water purifier under 10,000 with unique features, go through the article once. Pureit classic Water Purifier is the first choice of buyers with the latest technologies and fantastic features.
Pureit Classic water purifier Review :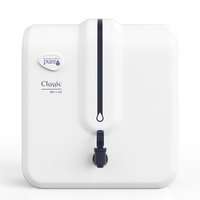 Key Feature of Pureit Classic :
Purification Technology Used : RO + UV
Storage capacity : 5 litres
6-stage purification
Advanced Voltage fluctuation Guard
Break Resistance Tap
Fully automatic auto on/off function
Pureit Classic water purifier filtration stages:
Sediment Filter – Pre-RO Carbon Filter – Post-Carbon Sediment Filter – RO Membrane – UV Chamber – Post-RO Carbon Filter
Specifications
Pureit classic Water Purifier (RO + UV) removes 90% of all dissolved solids and brings the level of TDS in the water to a safe drinking level.
It has a tank with a capacity of 6 litres and features an auto shut off function.
The construction material of the water purifier is made of engineering-grade plastic, which is highly durable and stylish. It is also food grade and is safe to use while being easy to clean and maintain.
100% RO ensures that pure water kills all kinds of harmful chemicals such as lead, mercury and UV microorganisms
The Advanced Voltage Function Guard protects your purifier from sudden voltage fluctuations and ensures that the purifier is always operating safely at high voltages of 300 volts and even at low voltages up to 150 volts .
Pureit Classic RO UV Water Purifier comes with a high-quality leak-free fitting and strong grip that provides a leak-proof seal.

REASONS TO BUY
6-step purification means safe, clean and delicious water
Cheap price RO water purifier
90% TDS remover converts hard water up to 1800 ppm into soft water
REASONS TO AVOID
No Auto Alert system for filter change
5 liter small storage capacity
Conclusion:
Pureit Classic water purifier is best suited for those looking for the best RO purifier within a minimum budget. This is best for a family of three to four members. Purification quality with six steps gives you 100% safe water. The downside of the Purification Classic is the high purification time (9-12 litres per hour). That is, it is not suitable for a large family.