Multi-stage RO purifiers have been top-rated over the years. The Pureit Eco water purifiers are top-rated because they can treat nearly all water sources.
However, there is one significant negative point have any RO purifiers. They waste a lot of water, which is the biggest problem. So we all need to know RO water only for drinking purposes.
HUL Pureit has recently introduced a new RO purifier, the Eco Water Saver Mineral. This water purifier provides RO purified water with high water savings. It has some unique features.
The Pureit Eco Water Saver reduces water waste by recovering up to 60% of water. RO purifiers normally recover 25-30% water.
HUL Pureit Eco Water Saver Review: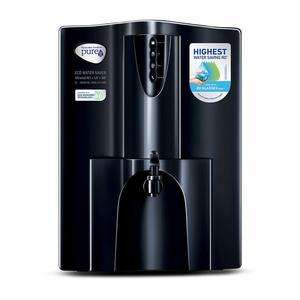 Key Feature:
Purification Technology: RO + UV + MF
Filtration stage: Seven stage water purification
Storage Capacity: 10L
Purification Production Rate: 24 L/hr
Body Material: Food Grade & Non- toxic grade plastics
Recovery: 60 %
TDS Limit: Up to 2000 mg/ liter
Safety: Filter change indicator alert 15 before the expiry of the germ kill kit.
Pureit eco water saver specification:
The New Pureit Eco water saver mineral RO+UV+MF has 60% water Recovery. This technology delivers high water savings and efficient purification.
Reduced reject water quantity up to 1 glass compared to other ROs that can waste up to 2.5 glasses. This allows you to save 80 glasses each day.
Pureit Eco WaterSaver Mineral RO+UV+MF purifies drinking water with advanced RO+ UV+MF purification. This purifies water to remove any harmful viruses, bacteria, heavy metals, and chemicals.
Pureit Eco Water Saver can treat any water source, municipal, borewell, or tank water.
Why you Choose Pureit Eco Water Saver Purifier?
This is suitable for water from borewell or tanker and municipal taps.
High water recovery rate (approx. 60% water recovery rate means less wastage.
High TDS, up to 2000 mg/l water purification
LED indicators for storage tanks empty/full, filter changes, and machine errors
High purification capacity up to 24 litres per hour & large storage tank with 10 litres
If the filters are not changed within a reasonable time, purification is automatically shut off
Installation free of charge and 1-year warranty
Pros
7-stage RO+UV+MF purification
High recovery rates up to 60% mean lower water wastage
Large storage tank holding 10 litres
Filter change alerts and auto shut-off
Fast purification capacity up to 24 litres per hour
Cons
Bigger size compares to other filters.
Who Select it?
The best RO water purifier for large families is the Pureit Eco water purifier. If your family members are 6-8 and they're interested in the best water purifier, you select it. The seven-stage purification combined with other features gives you safe and sweet water at 100 per cent.

Conclusion:
This article will help you find a detailed review of pureit Eco water purifier. You can also visit our related pages to expand your research on-budget water purifier. 12 Best RO Water Purifier in India 2021 | Best 10 Water Purifier Under 10000.