The Pureit Advanced Pro Mineral RO Water Purifier is a advance water purifier. It has advance six stage purification process make 100% safe drinking water. You can purifier any source of water.
About Pureit Company
Pureit water purifier is more than an item; it's the solution to India's water purification requirements. Since its introduction, Pureit has grown into a widely acknowledged Water Purifier brand in more than 9 countries. Pureit's groundbreaking products are made using the latest technology, including RO, UV, MF and Oxytube.
All over the Globe, Pureit has won numerous awards, certificates and accolades for the unique technologies and products they offer to the market.
Pureit complies with the stringent International requirements of the Environmental Protection Agency, United States, to remove harmful viruses and bacteria, thus providing safety with each drop you consume.
HUL Pureit Advanced pro Mineral RO+UV 6 Stage Review
Pureit Advanced Pro Mineral RO+UV comes with six stages of purification that assure you of water as safe as Boiled Water and removing excessive Total Dissolved Solids (TDS) to improve the taste of your water.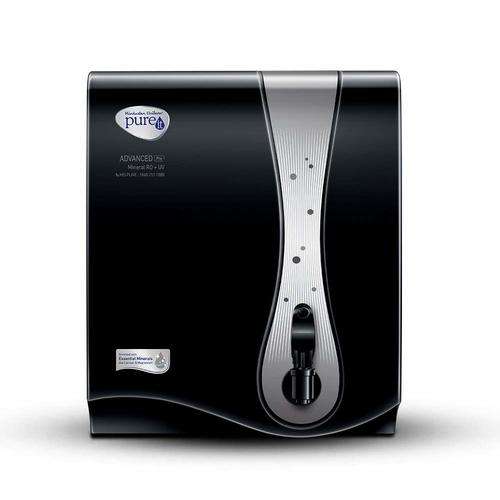 Pureit Advanced Pro Feature
PurificationTechnology: RO / UV / ACF
Filtration Stages – 6 stages
Storage Capacity: 7 litre
Purification capacity : 20 litres/hour
TDS Limit: 2000 mg/ liter Maximum
Purify any source of water
Power saving option available
How Pureit Advanced pro Mineral RO+UV Water Purifier Works?
Pre-Sediment filter: Get rid of coarse and fine dirt particles and impurities and prolong the lifespan of the carbon filter.
2. Carbon Filter for Pre-RO: Removes chlorine and organic impurities such as harmful pesticides. It also removes the bad taste and odor resulting from organic substances from water.
3. Mini-Filter: It filters water to eliminate smaller particles of impurities.
4. RO membrane removes the dissolved salts and hardness pesticides, fluoride, and heavy metals such as arsenic, mercury, and lead. It also eliminates microbial contaminants such as viruses, bacteria protozoa, cysts, and bacteria.
5. UV Chamber acts as an extra purification stage to further inhibit the growth of the parasites, viruses, and bacteria to ensure safe drinking water.
6. Post-RO Carbon filter The final stage of purification functions as a polisher and increases the flavor of purified water.
Expert Review
HUL Pureit Advanced Pro MineralRO+UV offers six stages of purification to guarantee RO water with a 99% purity. It improves water quality with minerals such as magnesium and calcium to give clean and delicious drinking water.
This purifier has an intelligent power-saving mode, and it can run with or without a voltage stabilizer.
Useful for TDS that exceed 2000 ppm. The system is designed to treat various water sources, Borewell or Tanker water and tap water.
TDS removal is as high as 2000 mg/liter and creates its sweet water.
Pureit Advance Pro Pureit Advance pro used 100 100% food-grade plastic.
Power saving mode reduces your electric bill every month.

Pros
Budget-friendly price
Best in class 6 stage advanced purification technology
Use it for any source of water
Cons
TDS controller does not available
Related Article: