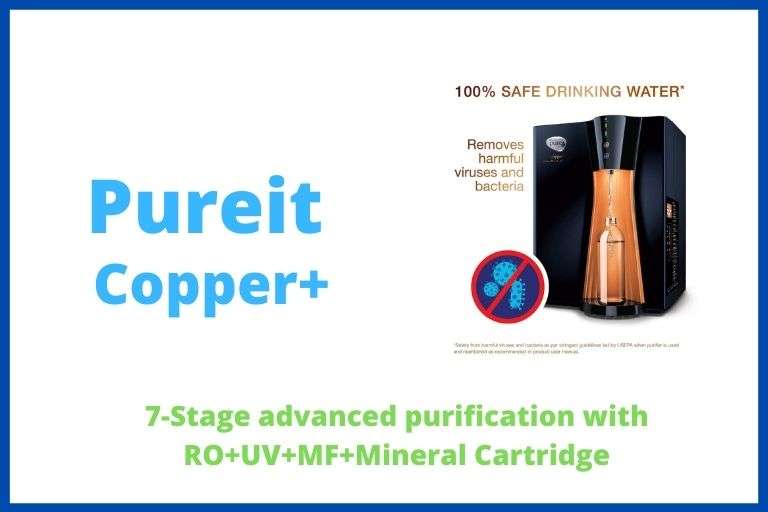 HUL Pureit Water Purifier has recently launched Pureit Copper Plus RO water purifier that adds copper to pure water.
Drinking water from copper pots is an ancient Indian tradition based on ancient Ayurvedic knowledge. Copper an essential mineral improves digestion, fights obesity, maintains immunity, and promotes overall well-being.
This Pureit Copper Plus water purifier was given extra health benefit for its unique feature.
Pureit Copper Plus Review:
HUL Pureit Copper Plus RO Water Purifier offers advanced 7-stage purification and unique proprietary Copper Charge technology (TM). Copper-infused water has anti-microbial and anti-inflammatory properties. It infuses the right amount of copper into each glass of water. The Unique copper charging technology charges water with pure copper 99.8% in real-time.
It makes an intelligent copper automatic cleaning feature that ensures fresh copper infusion all the time by cleaning the copper automatically.

TDS(Total Dissolved Solids) can be used up to 2000 ppm. Please use a TDS meter to know the exact TDS of your water source before buying a water purifier. The dual distribution system gives you a choice of charging more water and normal RO water.
Overview:
Price – ₹ 20,499
Rating – 4.3/5.0
Seven stages of purification.
Pure water with copper added.
Suitable for water from borewells, tankers and municipal taps.
Filter water 8-litre storage tank & purification capacity up to 28 litres/hour.
Purifies water with a high TDS range up to 2000 mg/litre or ppm.
LED indicator available for storage tank empty/full, filter change, and machine error or mechanical error.
Copper charge more water and soft-touch button for normal RO water delivery.
Warranty: 1 year on the product (consumable and additional accessories not covered by warranty)
Stages of Purification
7 stage purification: pre-sediment filter> pre-row carbon filter > mesh filter > reverse osmosis membrane >UV reactor > post-row carbon filter> micro filter membrane.
Why Pureit Copper Plus is Best?
The copper-rich water provides several health benefits. It is known to increase immunity, increase digestive power, help fight obesity, and benefit overall well-being. In this day and age, everyone is focusing on boosting their immunity. Pureit copper plus RO water purifier is an easy and intelligent way to add copper to your daily diet.
We also know, extra copper is not good for our body. So experts do not recommend drinking copper-rich water throughout the day. Two glasses a day is enough.
The Pureit copper plus RO gives you an option to supply pure water with or without copper.
Pureit copper plus uses a unique technology based on the electrochemical dissolution of copper in more water. All it does is charge the RO water with 99.7% pure copper in real-time just before delivery. So when you tip the soft-touch button to supply copper-rich water, the electrochemical reaction adds copper to the water.
The purifier has two soft-touch buttons; one copper is charged for more water supply and the other for normal RO water supply. This purifier has an innovative feature. You need to install a manual tap with the help of a Pureit authorized service person. This tap allows you to get normal RO water without electricity.
Advantage:
7-stage complete purification (RO+UV+MF)
Purified water with added Copper.
Alert for filter change & mechanical error.
Large storage tank (8 litter) and high purification capacity 28 litter/hour.
Dual water dispensing With copper water & Without copper water.
RO water dispensing without electricity.
High-quality design product.
Why you select Pureit Copper Plus?
A copper tank based RO purifier problem is incompatible with copper dosing. If pure water stays in a copper jug ​​or copper storage tank for a long time, the enrichment of copper in the water will be greater when water is used immediately. But Pureit Copper Plus RO uses more advanced technology to ensure that each glass has the right amount of copper.
HUL Pureit seems to have done the right amount of research and took customer feedback very seriously. From this fact, it is clear that Pureit has tried to overcome every possible problem.
Another problem with copper containers or RO purifiers with copper storage tanks is regular cleaning to deal with the oxidation effects. Pureit Copper Plus RO brings another advanced feature that automatically cleans copper. This ensures that each glass of water always filled with fresh copper-rich water.
Why Expert Recommended?
HUL Pureit Copper Plus comes with a larger water tank make it suitable for a compact or a larger joint family.
"Pureit Copper PlusRo" not only looks ultra-modern and beautiful, but it is also designed keeping in mind the daily functional requirements.
Copper + RO, you can eliminate all manual effort and still enjoy the health benefits of Copper in water.
One touch of the soft-touch button provides continuous water for 3 minutes. You can stop the water flow in the middle by pressing the soft-touch button again, and you will have to press the button again if you need more water.
The Advanced Filter Change Warning System warns you 15 days before the end of the germ life and automatically shuts off the water purification if the filter does not change. It ensures 100% purity of water.
Conclusion:
Pureit Copper Plus RO water purifier is inbuild advanced technology & feature. The price of this water purifier is a little higher with respect to other pureit water purifiers. A lot of water purifiers available, if you are looking best quality water purifier without advanced feature.
Recommended to read:
Drinking-Water Contaminants and Bad Effects Your Body
India Drinking Water Standards Parameter Limits