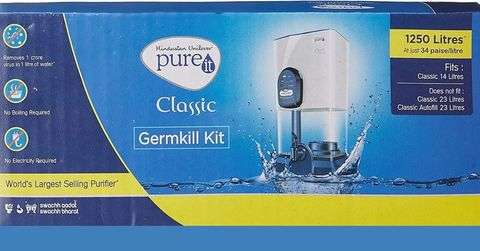 Pureit Classic 14L Water Purifier is a gravity-based water purifier that has a multi-stage purification process that ensures you and your family get pure water. The multi-stage purification process is done by programmers using disinfection technology that provides pure water. Change Pureit Classic germkill Kit and drink pure water for a long time.
HUL Germkill kit Component:
Activated Carbon Filter:
This water purifier cartridge uses an activated carbon trap method to purify the water. Activated charcoal carbon filters are most effective in removing chlorine, sediment, volatile natural substances (VOC), taste and odor from water.
Germkill processor:
This cartridge features a germ-killing processor. Configurators use bacterial killing technology to eliminate invisible, harmful viruses and bacteria.
Polisher:
Integrated polyester helps to get rid of chlorine and other contaminants. It makes your drinking water clean, odourless and clear in colour.
Germkill kit Feature:
• Advanced automatic switch-off
• Capacity – 1250 liters
• The United States adheres to strict EPA rules
• For compact / classic 14 liters
• The warranty for this kit starts from the date of purchase and till the time of use, i.e. 1250 liters. Self life is two years
Product Description:
• Brand: Pureit
• Model Name: Germkill Kit-Classic 14 L Water Purifier – 1250 L.
• Type 7 is difficult
• Filter material: high density polyethylene (HDPE)
• Micron rating 0.2
• Application: water process
• Suitable • Pure 14ltr
• Purification stage: 4
HUL Pureit Classic 14L water purifier is a gravity based water purifier. It is the cheapest non-electric purifier. Germkill kit cost approximately 500 rupees & water filtering capacity 1250 liter. Water purification cost 40 paisa per liter.
The Germkill kit is the main component of the Pureit Classic 14l water purifier. If your water TDS level around 200n ppm to 300 ppm, this water purifier is ok for you.
Read Also: