The Under sink water purifier popularity increases day by day very fast. It is a space-saving unique design water purifier. A water purifier is a necessary product in every family today because of water pollution. The water becomes polluted very easily by industrial wastage or human-made wastage and the result comes we find heavy metal like arsenic, lead, mercury etc.
Different types of water purifiers are available in the market based on Under counter water Purifier' or 'under sink water purifier'
Why Choose a Under Sink Water Purifier?
Easy to install – All under sink water purifier are easy to install.
Budget Friendly- The under sink water filter are under budget to upper to a middle-class family on the view of purchase and maintenance.
Easy maintenance: These water purifiers do not require much maintenance other than the regular water filters.
Save Space: The modern day Indian kitchen is narrowing in size. These water purifiers provide the best option as you can place them under the kitchen sink.
Available good quality models: Kent, AO Smith and other top brands are manufacture under sink water purifier based on market demands. They are also market leaders in other types of water filters.
Our Top Picks
Best Under Sink water purifier list
| | |
| --- | --- |
| Product | Images |
| 1. A.O.Smith Z2 Under Sink Water Purifier | |
| 2. Purella Ortho Under Sink Water Purifier | |
| .3. Eureka Forbes Aquaguard Under Sink Water Purifier | |
| 4. Havells UTC 100% RO & UV Under Sink Water Purifier | |
| 5. Kent Sterling Plus Under Sink Water Purifier | |
Best Under sink Water Purifier Reviews
1. A.O.Smith Z2+ RO+MIN-TECH Under the Counter and Under Sink Water Purifier
The best under sink water purifier with mineral technology make your kitchen with an international look with the AO Smith Z2 + RO Water Purifier. Z2 + RO water purifier works under the principle of RO (reverse osmosis) technique, which is one of the most effective water purification processes. In this process, water under pressure is passed through a semi-permeable membrane. The purified water is collected in a storage tank for drinking and impurities in the water are drain.
The RO membrane element in the AO Smith RO Water Purifier is tested and certified by WQA against the NSF / ANSI.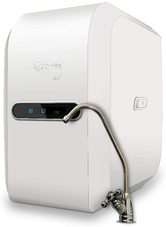 Key Feature:
Six Stages water purification
Mineraliser Technology
Water Storage capacity 5 liter
Digital Display
Filter change advance alert
Expert Review:
Water purify by 6 stage purification technology ( pre-filter + sediment filter + pre-carbon filter + RO membrane + CM-Tek (Silver Activated Post Carbon + Min-Tek). In the AO Smith Z2 + model, 100% water passes through the RO membrane, no bypass.
Mineral technology adds essential minerals such as calcium and magnesium back to the water. It ensures that the water tastes fresh and natural and has a balanced pH. It is an essential requirement for drinking water.
The patented SSM technology (side stream RO membrane) is suitable for water with low and high (up to 2000 ppm) TDS.
WQA Certified RO Membrane RO membrane elements are tested and certified by WQA against the NSF / ANSI.
1 year RO membrane warranty if raw water Total Dissolve Solids has >2000 ppm & 2 year RO membrane warranty if raw water Total Dissolve Solids has <2000 ppm.
Pros
Six stages purification
Digital display easy to understand the operation
2 year RO membrane warranty
---
---
2. Purella Ortho Under Sink Water Purifier with Faucet and 15 Litres Hydro Pneumatic Pressure Tank for Home and Office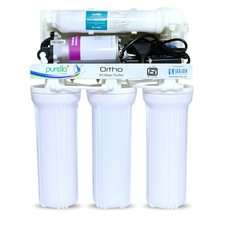 Key Feature:
Multi stage purification
Strong performance 6000 L life
Filtration rate 10 – 15 liter
NSF certified membrane
TDS limit maximum 2000 ppm
Power Saver and Auto Cut-off
Expert Review:
Five stages water filtration system with RO membrane and special filters such as spun filter, wound filter, granular activated carbon filter equipped with post carbon filter.
Filtration capacity 10-15 liters per hour while maintaining 30% water recovery.
The hydro-pneumatic pressure tank provides an increased storage capacity of 15 liters with uniform water flow while maintaining water pressure.
It comes with an elegant and rotating corrosion-resistant faucet for enhanced durability.
The compact and efficient design makes it convenient t under the sink, making it easy to attach faucets or other dispensers.
Automatically shuts off water and electricity once the tank is full, effectively saving energy and water, offering a strong performance life span of up to 6,000 liters per filter. Dry run protection protects parts from damage by automatically stopping the filtration process.
Pros
Hydro-pneumatic pressure tank
Membrane life 6000-litre water purification
Autocut facility
Cheap price & quality product
---
---
3. Eureka Forbes Aquaguard UTC RO+UV+MTDS 8-litres Under Sink Water Purifier
This Aquaguard RO + UV + MTDS has designed to keep in mind the kitchen decoration. This water purifier easily fits under your kitchen counter or sink. This gives you easy access to healthy water and even allows you to wash fruits and vegetables with pure water. This under sink water purifier has active copper technology that provides the goodness of copper in the water, and its mineral guard technology retains the essential minerals in its water.

Key Feature:
Technology: RO+UV+MTDS
Capacity: 8 liters
Suited for all sources of water
LED Indicator
TDS limit maximum 2000 ppm
1 year warrenty
Expert Review:
Advanced RO + UV + MTDS purification enables you to adjust the taste depending on the water source.
Suitable for all water sources like municipal, bore well or tanker water and TDS (Total Dissolved Solid) limit up to 2000 ppm.
LED indicator for easy understanding of the status.
These water purifiers include a purifier, power supply, power cord, pre-filter and installation kettle minerals in your water.
Pros
You can filter any source of water
LED indicator
best uses for small kitchen
1-year warranty
Cons
Price very high compare to feature
---
---
4. Havells UTC 100% RO & UV Under Sink Water Purifier
Havells UTC RO and UV Water Purifier provide your family with complete protection with its unique double UV protection which protects the stored water by re-purifying it every time the faucet is turned on. In addition, the 10L capacity storage tank comes with an inlet safety cover that keeps the stored water free from dust and insects.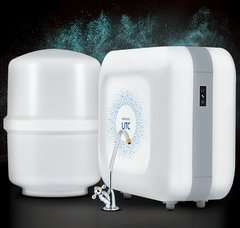 Key Feature:
RO+UV Purification
8-stage purification process
Minerals Cartridge
Smart Alerts
Double UV Protection
Expert Review:
This is 8-step UTC purification process comes with a sediment filter that removes dust, sand particles and an activated carbon filter that removes excess chlorine and odours.
Havells UTC purifier maintains water minerals, including calcium, magnesium, potassium and other trace elements like iron, copper etc. So you get the best experience of drinking water.
It has a smart alerts system, including full tank alert, error alert, pump failure.
Water passes through an RO membrane, which filtered dissolved salts, heavy metals and pathogenic microorganisms. Disinfectant UV disinfects water from germs, bacteria, pathogens and viruses.
Pros
8 stages water purification
Smart alerts system
Double UV purification ensure 100% kill germ
Smart design
---
---
5. Kent Sterling Plus RO+UV+UF+TDS Controller Under Sink Water Purifier
Kent Sterling plus is an advanced under sink RO water purifier, providing 100% safe and clean drinking water. This RO water purifier uses Kent's patented mineral technology that intelligently retains the essential natural minerals in pure water. Suitable for Kent sterling plus tap water, brackish, under groundwater and municipal water supply.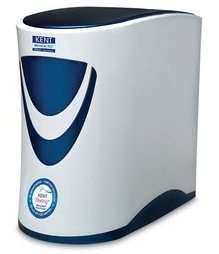 Key Feature:
Uses double purification of RO+UV/UF with TDS controller
6 liters storage tank
Purification capacity of 20 liters/hour.
Mineral RO technology
ABS food-grade plastic
1-year warranty
Expert Review:
This water purifier has a fully automatic operation, which allows it to start the purification process whenever the level of pure water in the storage tank falls below the maximum level.
The compact under sink water purifier comes with a smart design suitable for side-by-side placement near the refrigerator for efficient space use.
It can remove dissolved impurities like arsenic, rust, chemicals, bacteria, viruses and salts.
It has a patented TDS control that enhances the taste of the water, enriching the drinking water experience.
It is suitable for the purification of tap water, brackish, under groundwater and municipal water supply.
Pros
Fast purification capacity
TDS controller help to set TDS of water
ABS food-grade plastic
---
Conclusion:
The Under sink water purifier are popular in overseas. Now slowly gaining popularity in India. They are wall mount water purifiers when it comes to features and purification.
We've provided a comprehensive buyer's guide with a detailed review of the top five under Sink Water Purifier, which will help you make the right choice.
Top Article: