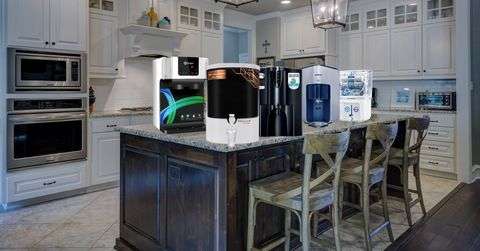 Are you looking top water purifier in India market?
Top-quality water purifiers are very costly, so before buying, you need to research this. We are selecting the top 5 water purifiers from all available in the market. If you plan to buy a top water purifier for your home, you visit the right article.
Top 5 water purifier in India 2022
1. KENT Grand+ ZWW 9 LTR Mineral RO+UV+UF+TDS Control ( Top Water Purifier)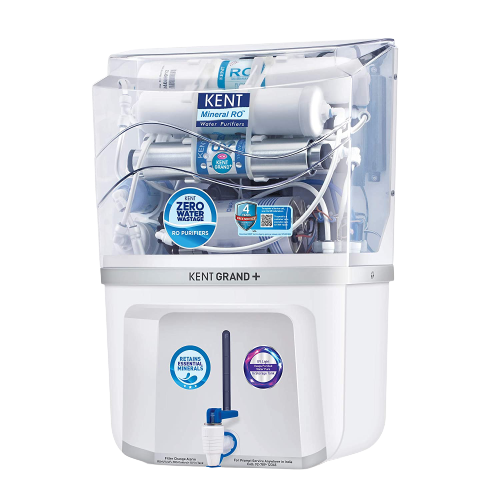 Overview:
RO + UV+ UF+ TDS Control+ Zero Wastage
Seven-stage water purification
Storage Capacity: 9L
TDS control regulator
Zero water Wastage technology

Purification stage:
Sediment Filter >> Activated Carbon Filter >> RO membrane >> Ultrafiltration >> TDS Controller >> Ultraviolet Filtration >> Post Carbon Filter
Specification:
Multiple purification process of RO + UV + UF + TDS control + UV in-tank makes the water 100% pure and suitable for drinking.
Kent grand plus comes with TDS control valves. The unique feature allows controlling the desired TDS level to retain the essential natural minerals in pure water.
It has zero water wastage technology; its pump recovers the rejected water in the overhead tank.
This purifier has UV LED light in its storage tank to keep pure water free from bacteria and keep it pure.
The Kent RO Purifier has been awarded certification from NSF International (USA), WQA (USA) with renowned Gold Seal and CE certification. It is a top water purifier in india 2021.
Pros
Smart Fully automatic activity
The TDS regulator will maintain the required minerals
Save water technology
Cons
We did not found any reason to avoid it.
---
2. Havells Max Alkaline RO + UV purified Alkaline Water Purifier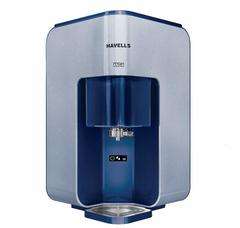 Overview:
7 Stage Purification with RO +UV
Storage Capacity 8 litres
Alkaline Taste Enhancer
Mineral Cartridge
Self-diagnostic & smart alerts
Unique design for 3 Way Mounting
Removable Tank

Purification stages:
Sediment Cartridge >> Activated Carbon Cartridge >> RO Membrane >> Germicidal UV >> Mineralz Cartridge >> Silver Impregnated Taste Enhancer >> Revitalizer Cartridge
Specification:
Havells Max is another and upgraded version of Havells Pro. The only difference is Max 7 stage water purifier and Pro 6 stage purifier. If you are looking top water purifier with unique featute, it is a perfact choice.
100% water passes through RO membrane and then UV purification to ensure complete safety and pure drinking water.
Reorganizes water molecules makes it biologically active to improve pH balance, hydration, alkalinity and mineral absorption.
Increasing the alkaline flavour improves the pH level of water by adding essential alkaline minerals.
Regularly converts water into alkaline water, which is healthy and delicious.
Mineral cartridges correct the pH of pure water, add a full spectrum of natural minerals and trace elements, and always save healthy and delicious water.
Pros
Unique design for 3 Way Mounting
Removable Tank
Improve water pH levels
Revitalizer cartridge makes the purified water more healthy
Zero Splash Faucet
---
3. HUL Pureit Eco Water Saver RO water purifier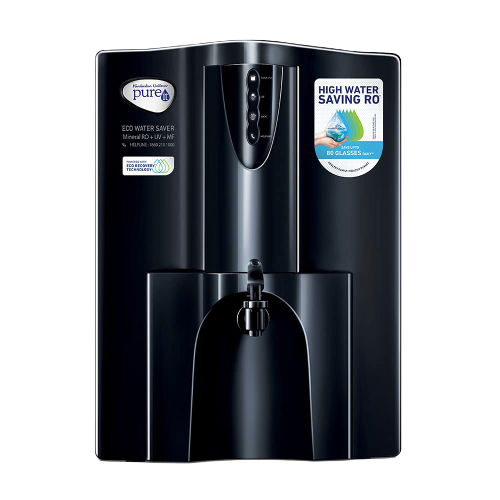 Overview:
RO + UV + MF technology
Seven stage water purification
60 % High RO Recovery
10 litres large storage tank
Advance alert and auto shut-off facility
Filter change indicator alert 15 before the expiry of the germ kill kit

Purification stages:
Pre Sediment filter >> Pre RO carbon filter >> Mesh filter >> RO Membrane >> UV Chamber >> Post RO Carbon filter >> MF Membrane
Specification:
The ordinary RO water purifier is rejecting two glasses of water for every glass of pure water.It is the first Pureit RO water purifier in India with eco recovery technology; saving 60% water.
Purity Eco Water Saver has an advanced 7-stage RO + UV + MF purification that removes harmful viruses, bacteria, chemicals and heavy metals.
The new Pureit Eco Water Saver is powered by Mineral RO + UV + MF Echo Recovery technology, which gives you efficient purification while saving more water.
The rejected water is less than one glass for every glass of pure water versus other known RO which is wasted up to 2.5 glasses.
Pure RO water is rich in essential minerals like calcium and magnesium.
If the filter is not replaced in time, the purifier shut down automatically.
Pros
High water recovery RO purifier
Advanced warning & auto shut off system
7-stage RO+UV+MF purification
A large storage tank of 10 litres
Cons
Bulky and slightly bigger size in comparison to other purifiers.
---
4. Aquaguard Marvel RO+UV e-boiling+MTDS with Active Copper Water Purifier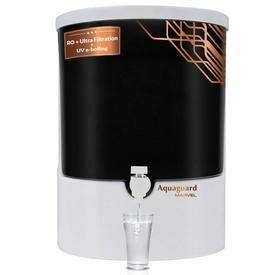 Overview:
RO+UV e-boiling+MTDS
7 stages with UV e-boil for final purification of water
Storage capacity of 8 litres
Active copper technology
Mineral guard technology
Taste Adjuster or MTDS
Chemi-Block Remove Excess Chlorine and Organic Impurities

Purification stages:
I-Filter >> Chemi-Block >> Mineral Guard >> Taste Adjuster (MTDS) >> RO Membrane >> UV e-boiling >> Active Copper Cartridge
Specification:
Aquaguard Marvel has mineral guard technology, it maintain the essential minerals in your water.
The chemical block section can removes excess chlorine and organic impurities from the water.
The Taste Adjuster (MTDS) enables the adjustment of taste depending on the source of water.
The unique feature UV e-boiling technology boiling water for 20+ minutes to ensures that every drop of water is safe for drinking.
You can purify water from any sources of water like taps, tankers and borewells & TDS limit up to 2000 mg/l.
Pros
Suitable for any source of water
7 stages with UV e-boiling for 20 minute
Taste Adjuster make your water sweet taste
Cons
No water level indicator
old design
---
5. AO Smith X8 Green RO+SCMT Black 9 Litre Water Purifie ( Top Water Purifier)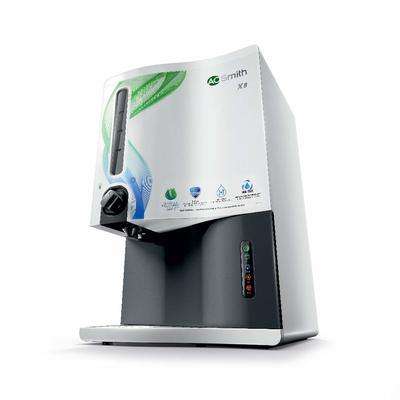 Overview:
RO+SCMT (SILVER CHARGED MEMBRANE TECHNOLOGY)
8 Stage Water Purification
9 Litres Storage capacity
Advance Recovery Technology: Save 2X water
Intelligent digital display
Advance Alerts for Filter & RO Membrane

Purification stages:
Pre-filter >> Sediment filter >> Carbon block >> ART™ (Advance Recovery Technology™) >> RO (Reverse Osmosis) >> Mineraliser Technology >> ZX Double Protection Dual Filter
Specification:
The AO Smith X8 Green is a market-leading 8-step purifier that ensures users quality drinking water and adds essential minerals to the water to make it healthier.
The AO Smith X8 Green Series RO Water Purifier works on an Advanced Water Recovery Technology (ART) that helps the purifier save water twice compared to other brands. It is a one of top water purifier in India market.
SCMT (Silver Charged Membrane Technology) is an additional step of purification to remove all traces of micro-organic impurities. The dual protection of RO and SCMT gives you one hundred per cent assurance of clean and pure water.
Mineralizer technology maintains essential minerals in the water. It makes the taste of water fresh and natural with a balanced pH.
Advance alerts system to alert you when the RO membrane or any filter needs to be replaced.
The AO Smith X8 has a digital display that shows all the information and warnings needed to change the filter. This makes it easier for buyers to learn about the device and act accordingly.
Pros
Saves 2X More Water
Ultra Modern Design
Digital display to show all the information
Dual protection of RO and SCMT
---
Conclusion:
In this article, you can find the top Water Purifier in India based on market research. If you want to increase your research on other different range water purifiers, you can visit our help pages, 12 Best RO Water Purifier , RO Water Purifier Under 6000, 6 Best Water Purifier Under 8000, 10 Water Purifier Under 10000.
Frequently Asked Questions (FAQs)
Q. What is the key Feature of any Top water purifier?
Advance technology
Ultra Modern unique design
Water saving technology inbuild
Filter change & UV fail alerm system
Display or indicator for understand the operation
Suitable for any source of water
Fully automatic activity
Advanced warning & auto shut off system
Q. Top water purifier brands name?
The Top water purifier brands name are – Kent >= Pureit > AO Smith > Eureka Forbes > Livpure = Blue Star > Hindware > Havells