Water purifier Kent Grand Plus is India's most reliable and best-selling RO purifier. You get reliable and quality refinement from Kent with excellent sales service trust.
Kent Grand Plus water purifier review
Kent Grand Plus RO is seven stages purification filter. The stages are sediment filter, ACF, RO, UF, TDS Controller, UV and UV LED tank. It is suitable for such as borewells, tanks or tap water. The Kent Grand Plus is also suitable for high TDS water and can purify water with TDS up to 2000 ppm.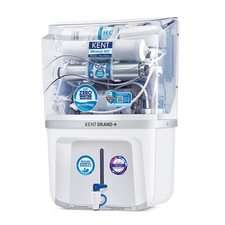 The storage tank capacity of 9 litres of pure water and up to 20 litres/hr purification capacity makes it suitable for a large family. The inbuilt SMPS keeps the purifier completely safe from voltage fluctuations, a common feature of most Indian households.
The automatic flushing feature prevents RO membrane scaling by automatically washing deposits from the membrane surface and keeping the membrane clean. This reduces the amount of rejected water and increases the life and efficiency of the RO membrane.

Kent Grand Plus Features
It is seven-stage water purification using a TDS controller.
Purification capacity up to 20 litres per hour and storage capacity 9 litres.
Water filter change warning and UV (Ultraviolet) failure alarm.
Inbuilt UV transmission water storage tank – keeps pure water pure and safe.
Automatic Flushing of RO Membranes – Extends RO Membrane Life and Reduces Rejection Water.
Zero water Wastage technology restores more than 50% of water & sends back the reject water to the overhead tank.
The TDS control regulator maintains essential minerals in pure water.
1-year warranty + 3 years free service available in this product.
Why Kent Grand Plus RO is best?
Kent Grand Plus RO has seven stages, and multiple purifications, that remove dissolved impurities such as arsenic, rust, pesticides, and fluoride, and kills bacteria, and viruses to make water 100% pure.
It has a TDS controller that can control the water TDS levels as per your requirement. TDS regulator that maintains a safe level of essential minerals in pure water. UV LED protection in storage tanks keeps pure water pure for a long time.
Filter Change Alert and UV Fail Alarm keeps you updated when filters need to be replaced. This feature makes the Kent Grand Plus a safe water purifier. If you do not replace the filter within the next sixty hours, the purifier will stop all operations.
The excellent features are in-tank UV transmission. This feature keeps the water pure and safe for a long time.
Most RO water filters have only 20% recovery, making 20% pure water 80% water rejected to drain. But Kent Grand Plus RO Save Water technology recovers more than 50% of the water as pure water.
This truly the best water purifier is equipped with 'Zero Water Waste' technology that sends the rejected water back to the overhead tank, resulting in zero water wastage. This is possible due to a potent internal pump pushing rejected water into an overhead pump placed on the 10th floor.
Pros
Zero Water Waste technology
Seven stages complete the drinking water filtration process.
TDS regulator helps you to control the water mineral level for your health.
In-tank UV infection kills 100% of virus & bacteria in water.
Automatic flushing of RO membrane will increase the membrane life.
Filter change warning and UV failure alarm available.
1-year warranty + 3 years free service
Cons
High price with respect to other filters.

Kent Grand Plus RO Overview
Kent Grand Plus RO water purifier with Grand Plus has in-tank UV transmission technology with zero water discharge technology. kent grand plus ro uf uv with tds controller water purifier makes the water pure and healthy.
Mineral RO Technology: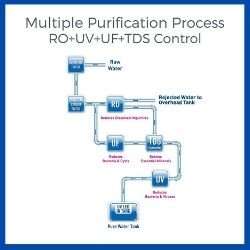 Kent patented Mineral ROTM technology uses TDS regulators to retain essential natural minerals in pure water, resulting in pure and delicious drinking water.
Multiple purification processes: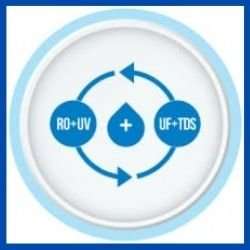 Seven stage purification removes even dissolved impurities such as chemicals, bacteria, viruses and salts, making the water 100% pure.
The water is 100% pure:
Kent's effort was to provide 100% pure water to protect your family through multiple purification processes to control RO + UV + UF and TDS. We ensure that water is 100% pure when storing essential minerals.
Zero water waste technology: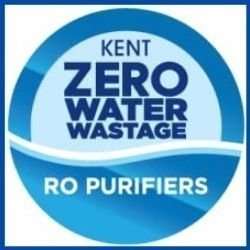 Kent Zero Water Water technology ensures that no water will be wasted. The purifier not only gives you 100% pure water but also ensures that the rejected water is pumped into the overhead tank with its own pump so that no water is wasted.
ABS Construction:
Kent ensures that all products are made with ABS food-grade plastic that protects the quality of pure water. The push-fit design prevents all types of leakage for maintenance-free performance.
You May Like to Read: