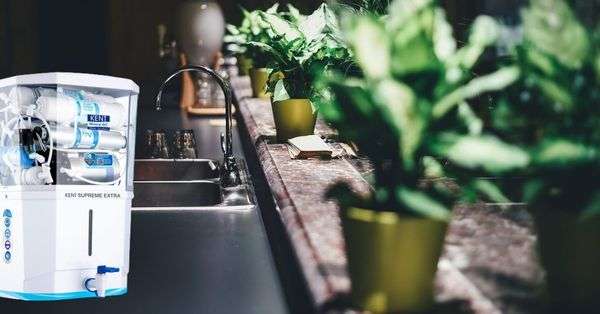 Keep your family healthy by using the Kent Supreme Extra Zero Waste of Water RO Water Purifier and save every drop of wasted water in the purification. Find the best price for Kent Supreme Extra RO Water Purifier.
KENT Supreme Extra is a technologically advanced RO water purifier with numerous top and EXTRA features that guarantee the purest and most alkaline drinking waters with pH ranges between 8.5-9.5 for your loved ones and family members. This purifier makes use of multiple purification methods of RO+UV+UF+TDS Control. It makes sure that purified water is pure for longer periods thanks to UV disinfection technology kept within its tank storage.
KENT Supreme Extra Review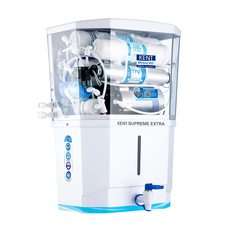 KENT Supreme Extra Key Feature
Purification technology: RO + UV + UF + Alkaline + TDS Control + UV in Tank
Water Storage Capacity: 8L
Eight-stage water purification
Water purification capacity 20L/hr Max
ABS food grade plastic body
Smart & Innovative Design
Auto on/Off, overflow protection & Inbuilt auto-flushing system
TDS controller maintains your water TDS
Most Trusted & Awarded
One-year warranty + Three years free service

Expert Review
As I mentioned earlier, Kent Supreme Extra has an eight-stage water purification system similar to other topwater purifiers in this category.
The multi filtration, including RO+UV+UF+TDS+Alkaline, removes all the dissolved impurities like arsenic, pesticides, fluorides, rust, etc and kills microbes like bacteria viruses to make the water 100% safe to drink.
One of the most notable features in Kent Supreme Extra is UV treatment for storage tanks. Even purified water from storage tanks can produce bacteria in time, and the ongoing UV treatment helps make the water safer.
Zero water wastage technology of this water purifier allows recirculation of the rejected water to the overhead tank by using an internal pump for the booster. Kent Supreme Extra has a water purification rate of 20 litres per hour, and it's one of the fastest on the market at present, as well as other top products that Aquaguard and Pureit make.
It also comes with an algorithm controlled by computers to determine the training filter and the lamp's life. If it reaches the threshold, the filter change alarm and UV, fail alarms will be turned on.
In terms of the quality of the construction, Kent Supreme Extra lives up to the name of Supreme. The water purifier feels solid and sturdy. The use of food-grade materials in the construction guarantees that the purified water and storage are safe to drink.
Why Supreme Extra RO water purifier is best?
Using RO, UV and UF, multiple purifications can remove insoluble impurities such as arsenic pesticides, rust, pesticides, and fluorides. They also kill viruses and bacteria to make the water 100 % clean and safe for drinking. The UV in the tank ensures that purified water is pure for a longer time.
The Alkaline cartage of this purifier aids in maintaining the pH level of the water in between 8.5-9.5 and gives alkaline and safe drinking water.
Zero Water Wastage ensures that every drop of water is lost during water purification. This is accomplished by recirculating the waste water back to the overhead tanks through the booster pumps.
TDS control system permits adjustment for TDS amount of pure water that retains vital minerals that are naturally present in drinking water.
Fully automated operation, with auto-on and auto-off functions, ensures you never get rid in pure drinking water. A computer-controlled process to ensure the purity and durability of the device.

Pros
Taste adjustments can be made using TDS controller
All the essential minerals are present.
Alkaline water (pH in the 8-9 range)
UV stored in tanks
Zero water waste technology
8-stage purification system
Filter change and UV failure alarms
1 year warranty for complete coverage
Cons
The non RO water mix into TDS controller
Cost of maintenance is high
You May Like to Read: